2 Min Retargeting Hack: Filter out the Non-Serious Ad Users

3

min read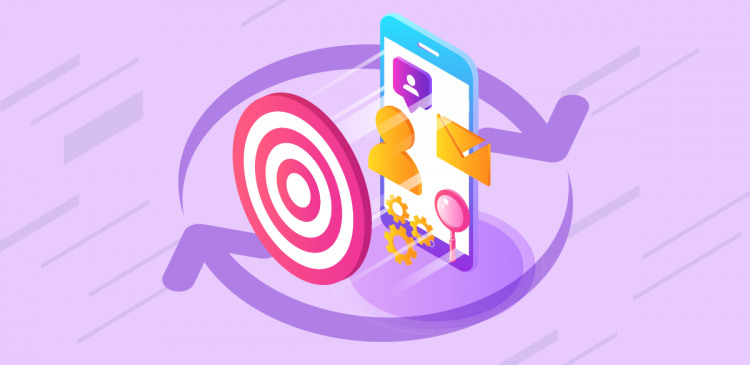 How wonderful would it be if every person who comes in contact with our content on web converts immediately? As part of the business that's something we all aim (rather, dream) for.
However, the buyer's journey is seldom so linear.
Users visit the websites at their convenience and conversion may take months, if not weeks or days. We need to keep bringing them back.
Infact, 97% of people who visit your site for the first time leave without buying anything. And that is why retargeting is so important to us as marketers. It helps us reconnect with the right user by showing relevant ads across their different devices.
And this two min hack may help you filter out up to 30% of wrong users when retargeting the ads.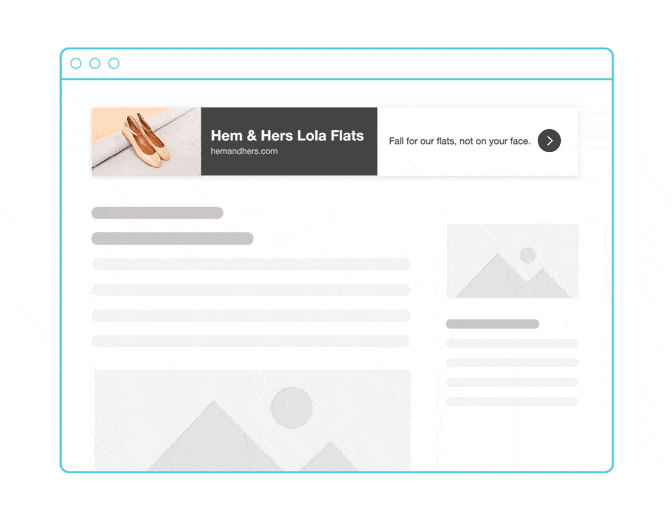 Source: Mailchimp
Remarketing or retargeting is a simple activity that helps us bring back the users to the website as a lot of people don't convert in the first attempt.
In fact, according to Google, combining remarketing with the other types of advertising, you sell 50% more products. And increased sales reflect positively on the bottom line.
Understanding the Problem
As marketers there can be different challenges that we may face when retargeting the ads. One of the most common ones is – targeting the wrong user.
When preparing the list of the possible 'to-be-retargeted' audience we need to filter out the visitors who landed accidentally. Fortunately, we have Google Analytics for us to figure this out.
Let's take a look at the images attached below. The first image shows all traffic of the website, the second shows the bounced sessions and third all traffic excluding bounced sessions.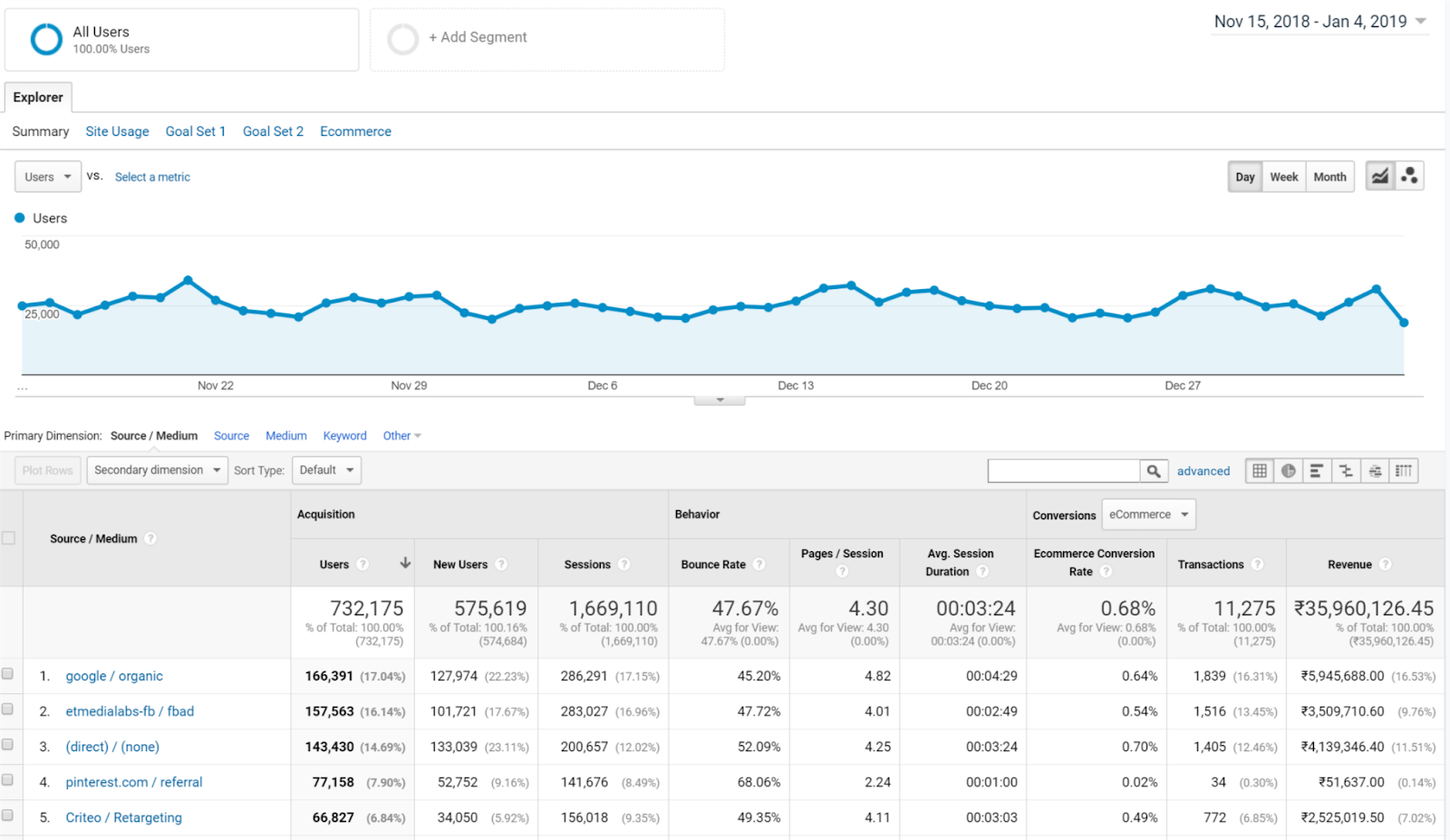 ---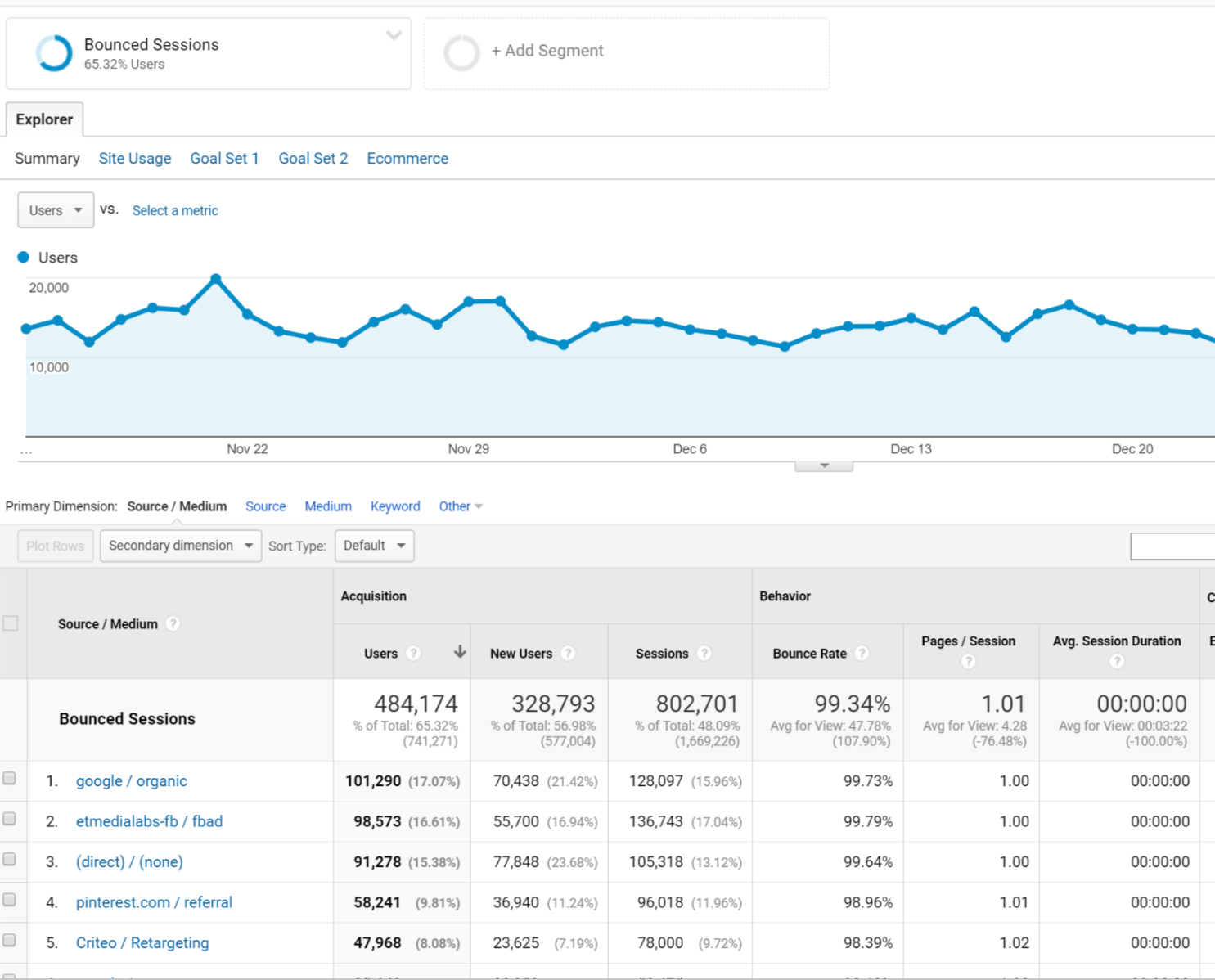 ---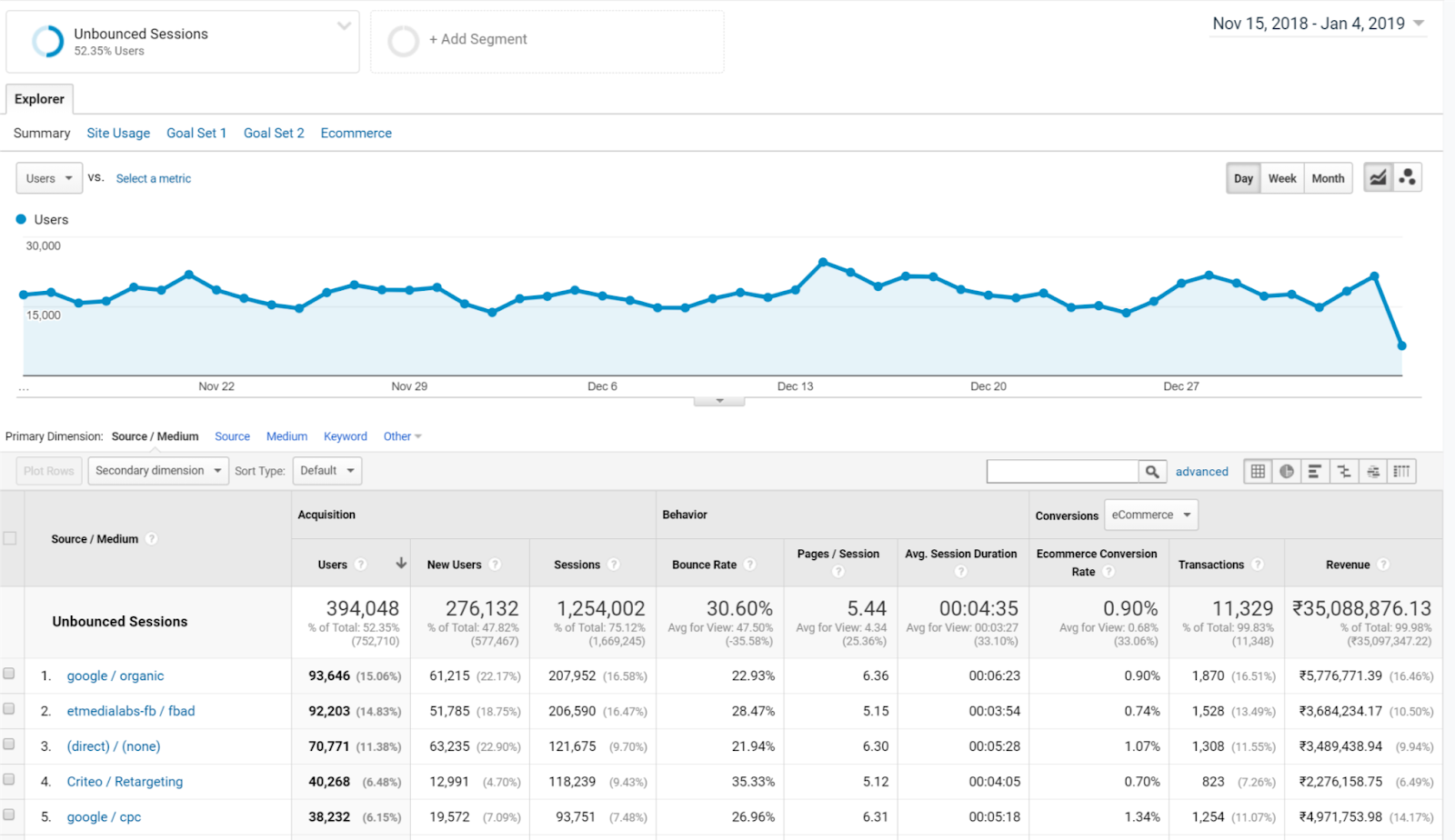 You can observe that un-bounced sessions had higher Avg session duration (4:35 vs 3:24), higher pages/session (5.44 vs 4.3) and Better Ecomm Rate (0.9% vs 0.68%)
Noticed the difference, after the data has been filtered with "online window shoppers" out?
Here's how you can filter out the bounced users for your ads. This can also help you take better directional decisions in terms of collection/ audience performance
Through assessment of Channels/ Campaigns/ Ads: We should strictly look at assets giving a higher percentage of bounced sessions as they are indirectly wastage to us.
       1.  From AdWords: Push your audience from GA to Adwords.
a. Go to Settings → Audience definitions → push to selected AdWords.
b. Select all traffic except bounced sessions (only un-bounced sessions audience remains after that) as it will create a better ReTargeting list and eventually much better similar list.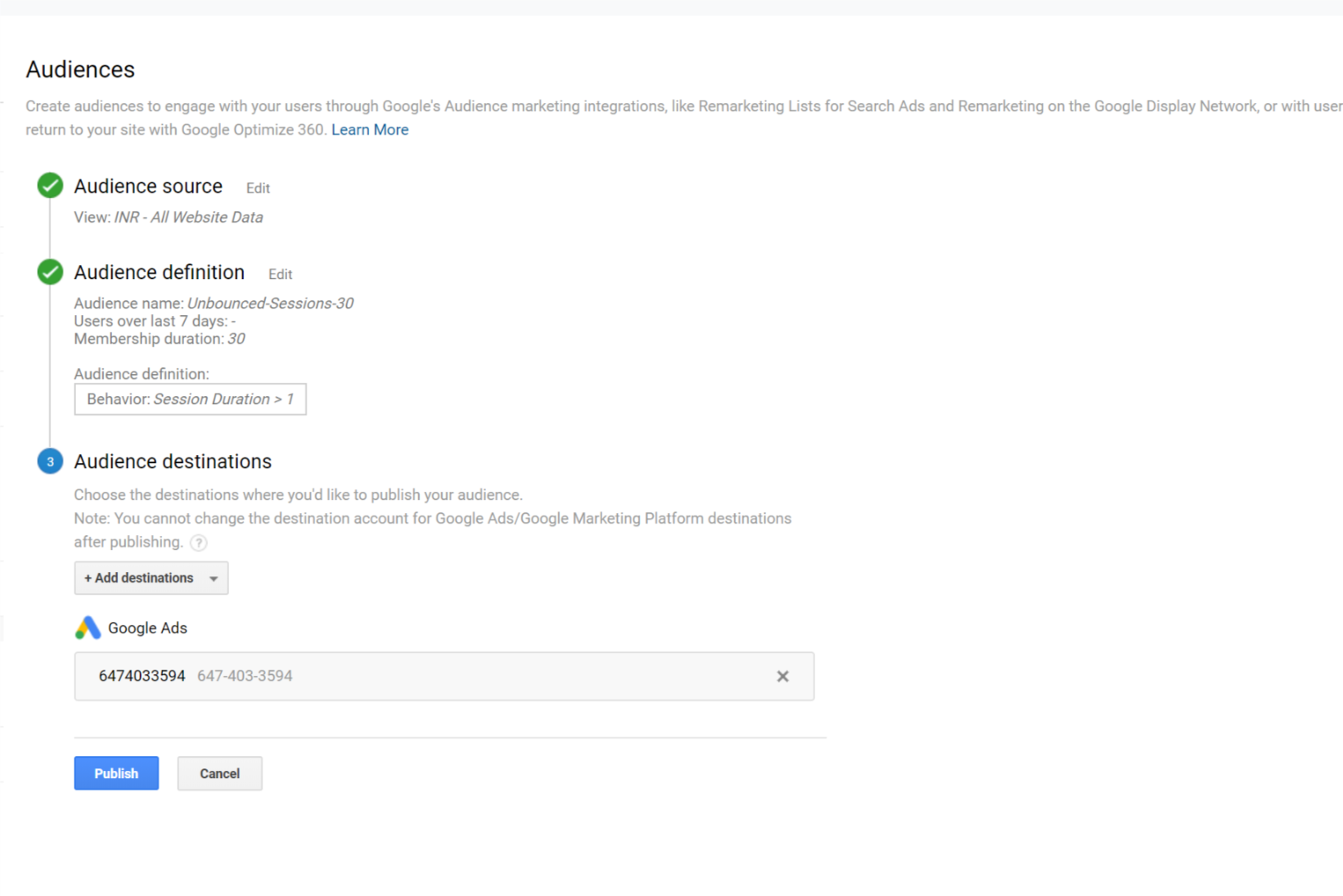 2.  From Facebook: Instead of making audiences based on traffic in a time frame, use event-based audiences.
a. Select pages/session > 1 as event. It will create a better RT and lookalikes or make RT based on the first event ( page view instead of website visit)
Here's how much difference can this small hack make in your audience size.
It resulted in a 30% higher Average Order Value (AOVs) and 10% lower cost per transaction (CPT) compared to all traffic at the same scale.
It also helps you to take better directional decisions in terms of ads performance
For a single flow landing page, this hack might not yield favorable results. Since single flow pages generally don't have any events other than lead submissions, so bounce rate might not be accurate. Page Scroll event can give an accurate bounce rate.
Summing up
Bounced users can be avoided but not eliminated. The best that can be done is to figure out the causes (which can vary a lot) and working accordingly.
You can use this tweak to improve your Real-Time lists and subsequently their lookalike list. A word of caution is not to narrow down too much since it can result in higher CPC/CPM due to a smaller size.
Got problems around Analytics? We offer data analytics solutions and help you push your marketing and retargeting efforts.

[spu popup="2509″]Talk to our experts now![/spu]