Ultimate Cheat-Sheet on how to hire the right Digital Agency for your brand

5

min read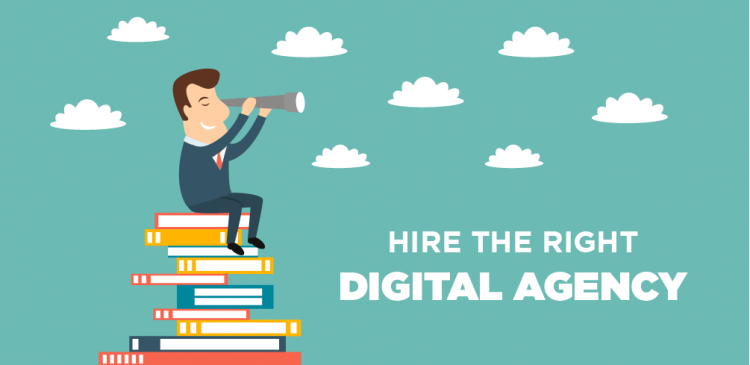 After the ecommerce boom, even the offline giants have started testing their waters in Online space. Every business is dependent on Online Visibility for one or another goal.
What all comes under umbrella of Digital Marketing?
Digital Marketing is a vast domain comprising of SEO, Email Marketing, Content Creation & Promotion, Search Engine Marketing and Facebook Advertising. These all are interdependent but require different skill sets to excel at each of the vertical.
All these verticals are equally important for business-growth but the one that provides quickest results on scale is Paid Marketing which is often confused with Performance Marketing. Performance marketing is efficient way of doing paid by utilising technology which helps in driving the results such as Acquisitions and Revenue.
We would talk about "How to choose a Performance Marketing Agency?"
Understanding your needs and setting benchmarks
You know in advance where you are heading to! Before leaving from your home, Right? Similarly, you need to set Targets vs Budgets for performance marketing.
There are two routes to follow for leveraging paid marketing:
Build an experienced team

Hire an agency which specializes in it.
There are pros and cons in both cases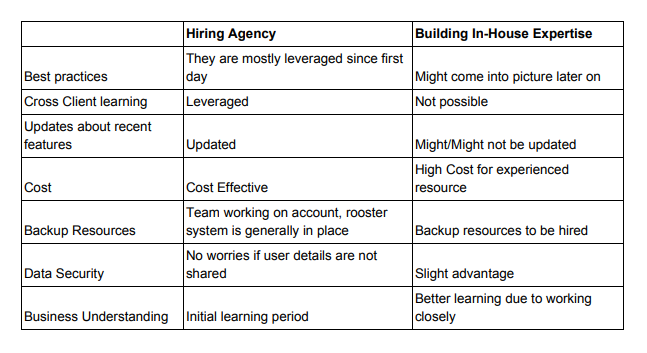 Also, let's say you choose to hire a performance marketing agency, do have set benchmarks on which you would evaluate their performance (200% ROI, for instance). It would always be preferable to have set targets for a long term fruitful client-agency relationship.
Talk to Us to know more about hiring THE Right performance marketing agency.
Let's say you are already doing Media Buying inhouse (Facebook advertising, SEM, or any channel where you bid to book inventory) and thinking of outsourcing it, few things become important in taking decision of whether or not
to outsource;
The scale you are operating at

The budgets for the next one or two quarters

The gap between in-house results vs industry benchmarks (or business expectations).
Generalist vs Specialist Agency?
Many of the agencies these day have dived into all the digital marketing verticals. Which one to choose?, remains a golden question. The depth and quality of a work in an arena is of utmost importance. What is fun of hiring an agency which only touches 10% of your expectation/Industry benchmarks over your current performance, even if they charge less fees or offer multiple services?
Your goal is to scale business in a sustainable manner, so while choosing an agency think of long term value that it's specialisation can bring on board, Choose the Best Value Agency rather than best Cost.
If you are interested in how we work, you can Get in Touch with us. 
We'll discuss the set of specialised questions that you can ask Vertical wise and Channel wise a bit later.
Current​ Client Portfolio
Why Focus on current Client Portfolio than Overall ?
Digital marketing is an ever-evolving​ domain, an expert five years ago may not retain the same title in present. Someone who is not updated about current scenarios and offerings by Ad Networks, might not be the best bet you are playing to scale your Business.
Reading case-study or success story of the work they did in similar domain can help you in understanding the depth of their work. Also, how close is the work that you are currently doing inhouse. Reference checks can be another parameter, wherein you get some assurance of the quality of the work they are currently doing.
First Impression
You shortlisted some agencies and called them for pitch. Ask them these important questions:
●What they did for client in similar vertical?
● What KPIs do they work on?
● To what extent they leverage technology? Do they have any proprietary tools/ Approaches.
● How to measure the results delivered? In case of performance marketing, how do they provide reporting and analysis?
● What sets them apart from other agencies?
● What is setup for in-person meetings?
● How do they use marketing for themselves? ( Do they practice what they preach?)
After the meeting, ask yourself these questions:
● Did they provide any ground breaking insights of your current work (Audit)
● How well they understood your business?
● Were the projections in line or off the track?
● Is Agency fee in lines with the projections?
Team Credentials:
How long the agency is in business? And what are credentials of the Core team? Strong background of core team definitely gives an edge as vision of the company would be in the right direction.
Apart from core team, also check the credentials of your POC or Account manager as he would be the one who will executed your ideas. Also, don't hesitate to ask if someone from core team would lead the project? Years of experience do come into play on strategic level.
Pro Tip:​ It would be preferable to choose a nuclear specialised agency as chances of key members of company directly supervising your account increases multifold compared to a large sized company.
Last but not the least, Certifications. ​These days most of the Ad networks have their certifications on agency level as well. Google, Facebook, Hubspot, and other have their own certifications which give agency an edge over others through dedicated support and early feature rollouts.
Vertical/Channel specific questions to test depth of work:
Some example questions to test and explore the depth of the expertise of agency in different verticals: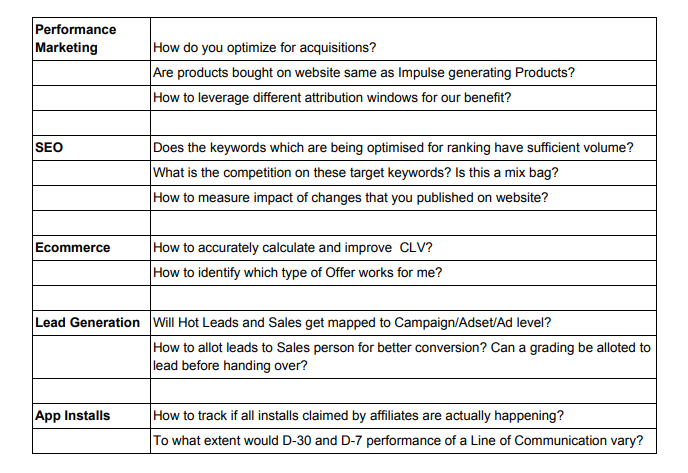 Summing it Up:
Often making a decision, we mix feelings with facts, it would be wise to judge all the shortlisted agencies on a set framework and allocate weightage (or marks) according to your requirements and preferences. This would avoid any human and cognitive biases. Here is a sample agency evaluation framework for you reference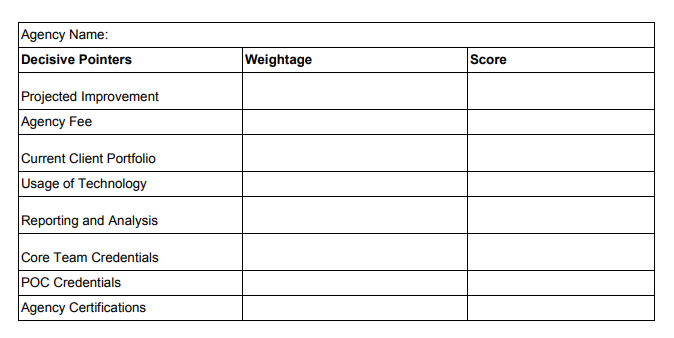 Using a reference framework can assist you in choosing the "Best Value" Agency