Facebook Automated App Ads: How They Can Help Streamline Your Mobile Ad Campaigns

10

min read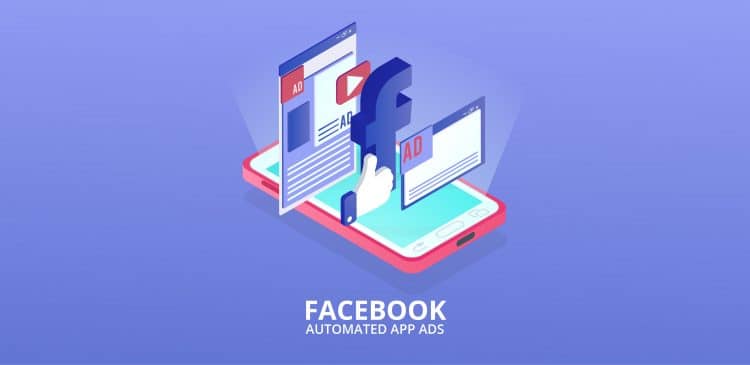 In 2012, Facebook introduced app install ads for the first time with the goal to provide app marketing tools that could empower advertisers and help them achieve the best conversions possible for their app ads. But the performance of online ads can be a rather volatile thing. Moreover, running numerous campaigns all the time while sustaining performance can be a big challenge on its own.
Power-bodybuilding vermodje muskulöser körper als symbol für bodybuilding muscular body as symbol for bodybuilding stock photo – alamy.
To help with this, Facebook has now introduced Automated App Ads that run on powerful machine learning algorithms and automate the entire process of ad creating, targeting, and publishing. With AAA, Facebook wants to help mobile apps, especially game apps, drive better results and streamline campaign management.
In this article, we'll discuss everything you need to know about creating, setting up, and managing automated app ads.
What are Facebook Automated App Ads?
Facebook Automated App Ads are a recently released feature by the social media giant which allows advertisers to quickly create and publish completely automated ad campaigns. Driven by machine learning, these automated app ads can optimize your ad campaign across different audiences, creatives, and optimization types. The aim of these ads is to deliver high performing creative combinations on the most effective placement and the most relevant target audience. 
Key differences between Facebook Automated App Ads and Manual app ads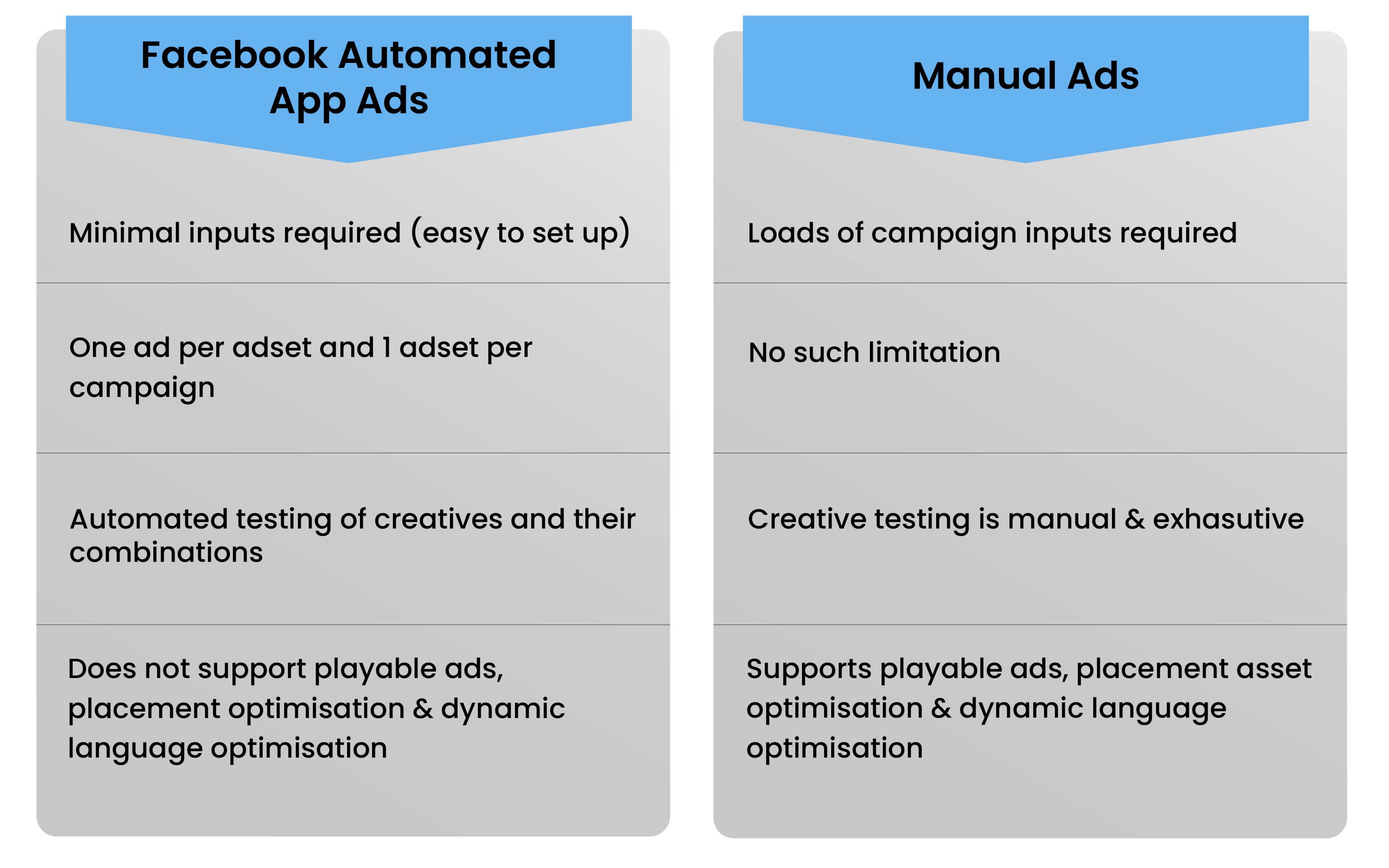 Benefits of AAA
Easily scale campaigns with sustained performance 
As you scale your budget, your campaigns get automatically scaled with the help of automation and machine learning algorithms that AAA runs on. This, in turn, helps sustain ad performance over a specified period of time.
Automatically test and post high performing ad creatives 
The dynamic creative optimization feature in automated app ads directly tests different combinations to deliver the highest performing ads. It can dynamically test the different creative combinations of up to 5 descriptions, 5 headlines, and 5 descriptions.
Better ways to optimize ad goals
 You get access to improved delivery models for app events, value optimization, and app installs which can drive better results for your ads. Moreover, there is a new optimization type available with AAA, which is the app installs with events. It basically helps achieve both app installs as well as in-app purchases with a single campaign.
Reach more users
Since the ad placements are automatic, Facebook delivers your ads to as many targeted users as possible at the lowest costs across the entire Facebook, Instagram, and Audience Network. All you have to do is choose the app store, the country to target, and the optimization goal — Facebook's machine learning algorithm will handle the rest.
Achieve goals more efficiently 
AAA only allows advertisers to create one ad set per campaign because multiple ads can often lead to audience overlap and reduce the overall efficiency of the results. With AAA, you can get results with just one ad, one ad set, and one campaign. A single streamlined campaign means lesser inputs, quicker launch, and better results.
A/B Testing with AAA tests
In order to determine whether AAA is even the right marketing strategy for you, Facebook allows you to run A/B tests using the AAA campaigns. The test basically helps you check if there is any overlap with your usual app install campaigns and if AAA can actually be helpful for your marketing campaigns.
How to setup Facebook Automated App Ads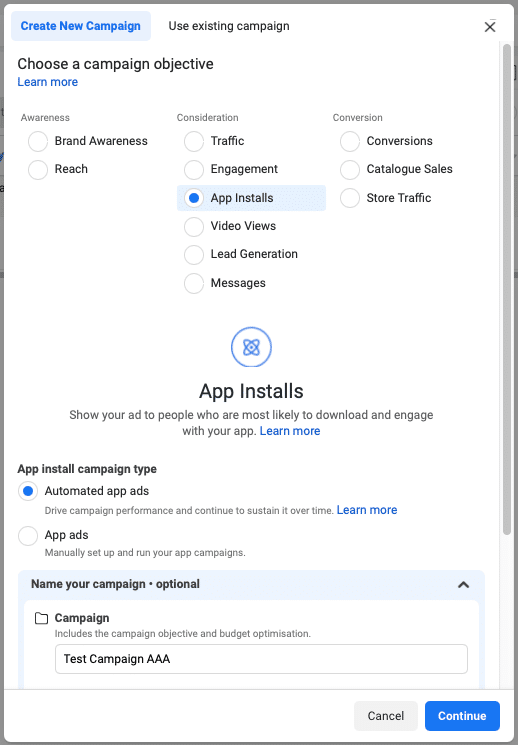 1. Go to Facebook Ad Manager
2. Select the App Installs as the campaign objective
3. Click on Automated App Ads options, add a name for your campaign and then click on Continue. (It should be noted that you can't filter your campaigns according to manual or automated ads, which is why you should name your campaigns properly in order to correctly identify them. 
4. In the next step, select the app that you want to promote and click on continue.
5. Next is the location and language section, where you can decide who should see your ads. 
Here are a few things you should know about targeting for AAA:
You can only select the country, operating system, and language of the target audience. There are no granular targeting options available like with manual ads because Facebook's machine learning and automation algorithm takes care of the rest

The age targeting is 13+ by default. In case your app minimum age is higher, it will be set according to the app store minimum requirements. For dating apps, the add target is set to 18+ by default

There is a 90-day exclusion window under which if a user hasn't opened the app in the last 90 days, then they will not be eligible to receive an ad from the app. 

Automated app ads can appear on all placements and there is no way to manually choose or remove specific placements
6. You will be taken to the Optimization controls section next where you can define the goal for your ad. There are four optimization goals available and you can choose the one that best fits your marketing campaign goal.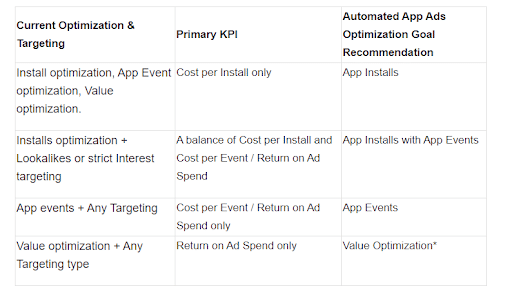 7. In the next step, select your budget and the schedule for the campaign
8. Select your Facebook page and connect your Instagram account (if available), in the next Identity section
9. Next is the ad creative section where you can add multiple creatives, text options, and headlines. Facebook allows you to add up to 50 videos or images and then automatically generates different combinations of ad creatives according to what people are most likely to respond to and which ones are performing the best. You can test out the different variations before your ad goes live. 
10. When you are done, click on the Publish button to make your automated app ad go live.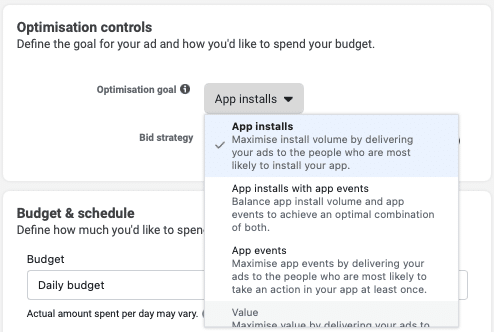 Key challenges with Automated App Ads
In theory, Automated App Ads sound like the perfect ad types. It claims to let marketers take a backseat while Facebook's advanced algorithm works tirelessly to deliver optimized performance — however, there are still some challenges with it.
Here are some key challenges that you might face with AAA:
1. AAA is dependent on Facebook's metrics and not the true metrics for your app
While Facebook knows a lot about users on its platform, it might not know or see the true value of your app users. The value or ad performance reported by Facebook may be going in the right direction but it won't always be precise and it won't completely represent your app's true metrics.  
2. No granular targeting options available
With AAA, there is no way to create a custom audience and target them with personalized ads. For instance, if you have a home decor eCommerce store and you specifically want to target women in the age group of 25-34, there is no way to do it through AAA. Facebook AAA will only show your ads to users over 13 years old who the algorithm thinks would interact and show interest in your ads.
3. AAA has a big learning phase
AAA works on a machine learning algorithm and like all machine learning systems, it has a training or learning phase where it learns more about your campaigns, creatives, ad performance, and target audience before showing the right ads to the right users. This can take quite some time and you may not even get the results that you want right away. 
It's not even possible to just keep AAA as your test campaign since you are only allowed to run one ad set/ campaign for a given country, language, operating system, and optimization goal.
Moreover, it is also important to note that if your manual app install campaigns and AAA campaigns have an overlap in delivering to the same target audience, then Facebook's algorithm will prevent AAA from achieving its optimum performance.
4. AAA doesn't let you see performance issues
While Facebook talks a lot about its specialized AAA algorithm that does all the extra work for you, the lack of transparency in AAA can also lead to issues. There is no way for you to see exactly which of the 50 ad creatives are performing well or which creatives or being shown to which users. 
You do get access to some overall performance metrics, but there is no way to access user-level data like cost per unique purchase of every creative. This can also lead to bigger problems when your AAA doesn't end up performing as well as you expect it would. You wouldn't know exactly which creative or placement is responsible for the decline — and there would be no way to fix the performance problem.
How to test AAA to overcome the key challenges
Even with a few issues, it is possible to see the high performance with AAA. While it's still a comparatively new feature, as more marketers run AAA ads, it's algorithm will get more advanced and help you target users in a better manner. 
But before you commit to AAA completely, its best to test the AAA campaigns to see if they would even work for you or not:
Test AAA against manual ads
You should run a split test to measure the performance of AAA against manual ad campaigns to see if AAA can produce better results. When you are testing, you should make sure to run the campaigns with app install as the main objective.
Find the right optimization settings for AAA campaigns 
Start by testing your AAA campaigns in one of the smaller countries that you want to target in order to see how it performs and gain experience with it. You can also switch ad creatives, taglines, schedules, and ad optimization goals to find the right optimization settings that can help achieve peak AAA performance.
Test mobile app install campaigns instead of purchase or value campaigns
Facebook's machine learning algorithm needs some signals and information to succeed and run properly, which is why the more signals you provide it, the better. As a result, campaigns with a higher number of conversion events like optimizing campaigns for mobile app installs often work better than purchase or value campaigns.
Final words
Machine learning is slowly being incorporated in all parts of digital marketing including ads now. It's clear that AAA is a powerful arsenal for marketers, even though it is still in the fledgling stages and it will take some time for it to evolve. But Automated App Ads are the future of advertising and they are definitely here to stay.