Here's what we learnt after spending $1,000,000 per month on Google's Universal App Campaigns

16

min read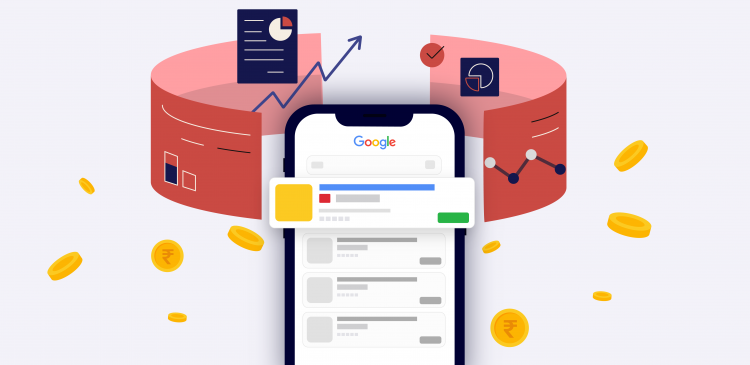 ? Google Play store has 2.87 Million apps! Apple's App store has 1.96 Mn!
There are gazillions of mobile applications and users on the many application stores, headlined by Google's and Apple's monoliths.
As a user, looking for the right app is quite a task with this cacophony. In such a scenario, users can gravitate towards the first half-decent product they come across. That makes the app marketer's job that much important. But we are only stating the obvious.
Today's app marketers are skilled and well-informed. They ride the dominant ecosystems of Google and Facebook, experiment with individual content sites in well-defined genres like news, gaming etc., and bet their moneys on the umpteen ad networks and DSPs. As any marketer worth her salt would say, the idea is to find the right mix, and expertly tie the same with the right technology, data management, measurement and optimization.
It all sounds good. But the devil lies in the details. In this article, let's talk about one of the most capable tools for App Marketing- Google App Ads (formerly Google Universal App Campaigns aka UAC). We cover Facebook's App ads ecosystem here.
As marketers, we know there is much fragmentation in each ecosystem. Google has Google Search, YouTube, Google Play, Merchant centre, and myriad websites in the Google Display Network. If you were me in 2015, you would shrug, let out a soft sigh and open your excel sheet to fine-tune your media plan, running across never ending rows and columns. Google Adwords is typically where you would start.
Thankfully, Google heard our prayers, and brought everything under one umbrella for all things app promotion- the much vaunted UAC- Unified Acquisition Campaigns, now known simply as Google App Ads.
? We cover the basics of Google Adwords here.
? A few definitions
UAC — Google's Universal App Campaign, now known simply as Google App Ads
Bidding Strategy — The basis of optimizing a campaign with a target cost per objective. Eg: tCPI, tCPA, install volume, tROAS, etc.
tCPI — campaign optimization strategy of a target cost per install
tCPA — campaign optimization strategy of a target cost per action/app-event
tROAS — campaign optimization strategy of a target cost expressed as a percentage of total ad spend
Learning period — the first 7 days of a campaign since its start, when the algorithm works out what works the best and defines a further course of action for sustained success
How do Google App ads make marketers' lives easy and successful?
One single campaign
For starters, you don't have to run multiple campaigns, all separate from each other on each of Google's platforms like Google Search, Google Play store, YouTube and Google Display Network.
Rather, you set up a single UAC campaign, define your objective(s), set up simple creatives and copy (or rich and layered if that's what drives you) andGoogle will do the rest.
A word of caution- it's not exactly like a 'plug-in and forget' fixed deposit. You still need to take a look periodically and make minor adjustments, a la high-grade mutual funds. But the manual effort is much less than what it is with individual campaign types.
Auto optimization via Google's machine learning algorithm
Google's algorithm has been growing by leaps and bounds. Give it some freehand at the start of your campaign, and it will set itself up beautifully to deliver the desired results for you. A well-thought tweak here and there will only help. We will talk about when and where that's desired and where not, later in this article when we talk about optimization strategies.
We use machine learning to rotate your ads and adjust bids automatically, so your ad shows up for the right people at the price that works best for your business. We'll be able to optimise your ads, bids, and budget once we've got enough data (approximately 100 conversions).
Where do Google App Ads appear?
Google Search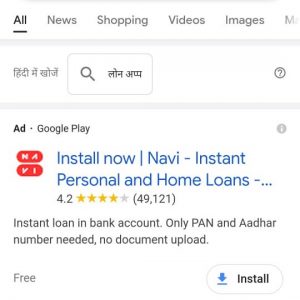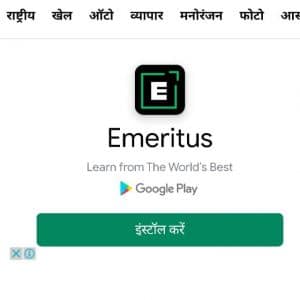 How does UAC work?
A UAC plays on two principles:
The breadth and depth of media/ad inventory, leading to greater and better exposure to audiences across multiple contexts, and
Google's much talked about understanding of user behaviour across media, screens and contexts, and continual improvement via some of the best machine learning algorithms in the world.
This allows Google to place ads across its platforms and continually optimize with permutations of messaging, placements, segmentation, user-behaviour and performance metrics, like retention rates, in-app activity, and other engagement metrics.
It's true that much of the manual work has been taken out in Google App Ads campaigns, however there are a few elements that still need to be controlled manually:
Daily budget
Bidding Strategy via Target Cost-Per-Install (tCPI) or target Cost-Per-Action (tCPA)
Targeted geography
Targeted languages
Up to 5 different text headlines, each having up to 30 characters
Up to 5 unique descriptions, each having up to 60 characters
A campaign start date (and an optional end date)
Optional: Images, videos, HTML5 assets. If these are not uploaded specifically, Google will pick up assets from your Google Play store listings.
To put it another way, UAC works at
High scale, unlike say pure search campaigns that are restricted by search volume,
Taking advantage of a
An extensive network which includes all the Google platforms YouTube, Play Store, Search, and GDN, etc.)
And leaving in its wake not just
excellent performance but
valuable branding by showing millions of impressions daily across Google's expansive network
How to set up a UAC?
Google's App ads make you put down the campaign objective first hand, one among:
Increase app installs
Increase in-app conversions
Drive app engagement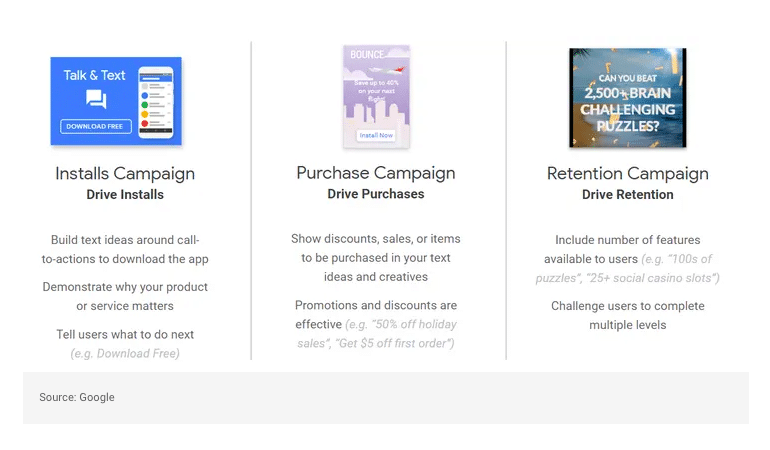 If you are setting up UAC for the first time , follow these steps below:
• Link your Google AdWords account with your app listed in the Google Playstore
• Create a new campaign with app promotion as the objective
• Set an initial bid to bring maximum installs.
○ For a new account, there is only one bid strategy available (tCPA).
• Use relevant text lines for headlines & description.
• Upload the creative assets and the campaign is ready to go live
Optimization Strategies
Now that we have established why UAC is such a vital cog in the app-marketing wheel and looked at how we can set one up, let's delve right into how to make it sing to your tune. Even the best guitars need a skilled performer.
Because of the inherent nature of UAC that promises much less labour for the fruits it offers, novice marketers may think that there's not much for them to do. That's not quite right.
The right strategy and subtle optimization tweaks offer a radar that keeps your campaign on track and pushes Google's algorithm to achieve best possible results.
Google's App Ads campaigns can be optimized on the basis of:
Bidding strategy that depends on campaign objective, and
Creatives
Optimization for objectives
Currently Google offers setting up a campaign basis one of the following objectives:
Installs

Install Volume
Installs Advanced: a hybrid objective that optimizes for install volumes but also looks for people who are likely to take certain in-app actions

In-app actions (like purchase, add to cart, etc.)

In-app actions volume
In-app actions value
In-app actions re-engagement
Quick guide that you can follow and act-upon
For the busy marketer, we have created this little flowchart and a neat grid that together serve as an optimization guide. Even if you can't read the entire article at a go, these will take care of your major questions.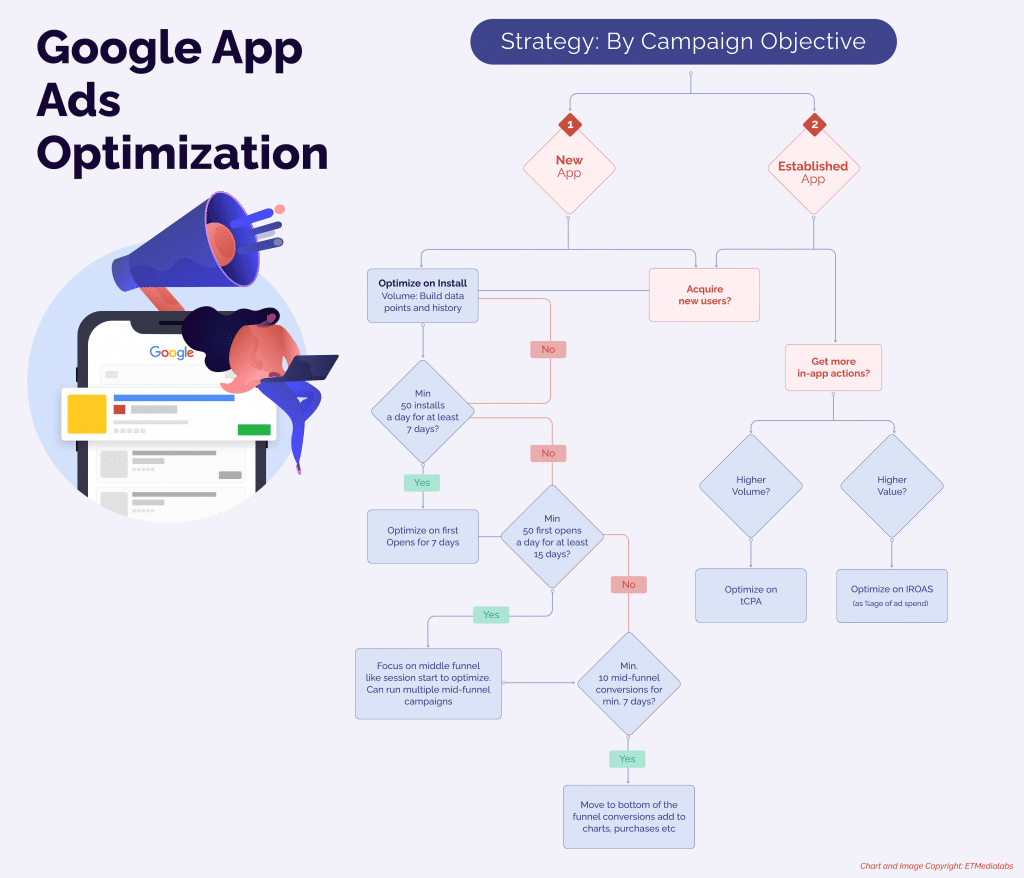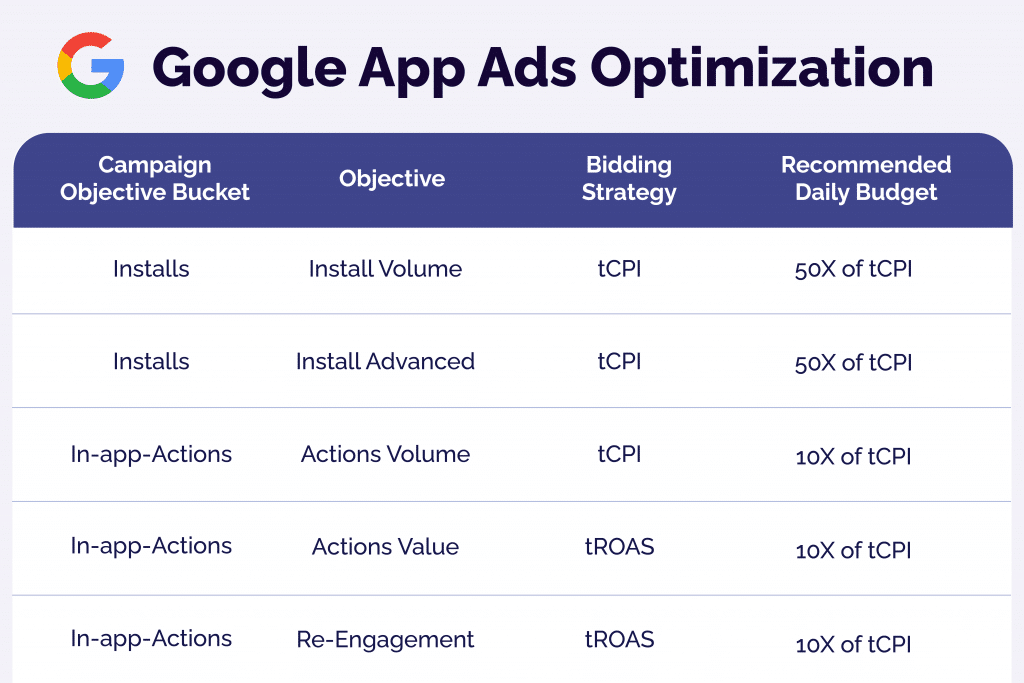 If your app is relatively new in the market, it's better to go with Installs in order to get as many users as possible.
After getting some traction, you can shift your focus from Installs to bottom of the funnel events like purchases or add-to-carts.
However, if the requirement is to acquire users who take a specific action(s) in your app like sign-up or purchase, then you are better off with in-app actions as the campaign objective.
Let's delve a little deeper into these optimization buckets:
Install volume
As the name suggests, this campaign type ensures that installs are delivered at the required tCPI. The only goal is success at efficiency. Quality may not be the most important parameter here. New apps and companies looking for a rapid growth phase typically prefer this campaign type.

Installs Advanced
Installs Advanced (in beta) is a hybrid between install and in-app action campaigns. It optimizes on install volumes like the previous one, yet tries to maximize such installs where users are also likely to engage in more in-app actions.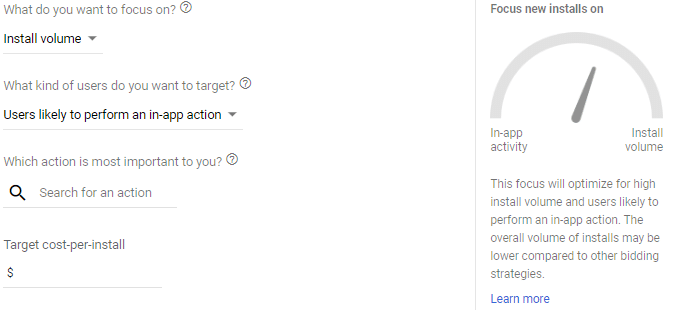 In-app actions (like purchase, add to cart, etc.)
Once your campaign is mature enough to move beyond app-installs or in-app actions on initial-level funnel events like with Install advance campaigns, you would love to explore the immense opportunities brought by this deeper in-app actions objective-based campaigns.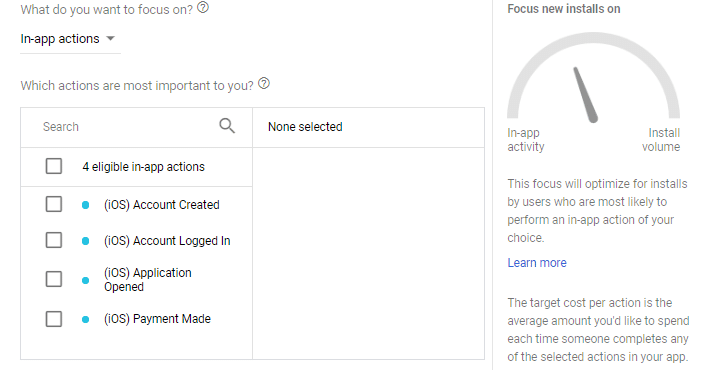 In-app actions for value (beta)
Google App Ads have a beta feature which allows you to optimize for currency value of the in-app actions. This is useful when the in-app action most important to you has a direct monetary value attached, like a purchase. Here, you would slowly want to move towards optimizing on value if your average purchase values vary across conversions.
You can input a desired ROAS (tROAS) within a defined conversion window. Google's algorithm will not only consider the completion of in-app action as a deciding factor in optimizing the campaign, but also the value associated with it, basis historical campaign data.
tROAs is expressed as a percentage value of your ad spend. So a 100% tROAS means you want to break even. To make a profit, the value increases.
Currently, this campaign type for value is in beta, so in order to run this campaign, you will need to reach out to your Google representative and get your account whitelisted.
?Note:
1. Google needs to whitelist the account
2. The account needs Google Analytics for Firebase installed and activated (refer to this guide by Google on how to set up conversion tracking, including firebase).
?Tip: This campaign type works basis the in-app event's monetary value, besides the overall probability of completing the said in-app event. So it's mandatory that you already have a Google App Ads campaign being optimized for in-app actions before you can move to 'Value' based campaign type. Once your campaign for in-app actions is maintaining 300 in-app event/action completions continuously for at least 30 days, you will be ready to migrate to a campaign that can be optimized for value.
In-app actions for re-engagement (beta)
Do your customers reduce their engagement with your app over time? Google App Ads latest campaign type — app campaigns for engagement — promises to bring the attention of such users back to your app, via carefully planned action events.
With a re-engagement campaign, you can target users at different stages in their app journey/funnel. For example, you can target users who have engaged with your app, but have not completed an in-app purchase in a certain number of days.
Like the In-app actions for value campaign type, this also requires your account be whitelisted by Google. It needs tracking setup via Firebase. It also requires a history of minimum of 200-300 completed individual in-app events within 30 days.
It also needs deep-linking implementation, which allows you to prompt/take the user to a specific page/screen within the app when they click on your ad.
Pro tips
While we have tried to share best practices and tips under each section in this article, let us also summarize the overall pro tips by our experienced team.
Optimization events
Do not focus on a single event. Optimize multiple events like add-to-cart, sign up, purchase, etc. Our success story with Licious is one outstanding exampl. This reduces dependency on a single event and offers multiple options for scaling.
Set up firebase/third-party analytics. Optimize for firebase events, not other third-party analytics.
All events from install to late-funnel events need to be in place and passed on to the AdWords panel. Include the last event (purchase, acquisition) and first open as conversions.
Bidding Strategy
Nailing your bidding strategy is key to efficiency in any online ad campaign. Base it on how much you want to spend for each conversion and your advertising budgets.
Experiment with your bids, with increments of 5-10% now and then and carefully estimate the sweet spot.
Bid higher for optimization events (installs, first opens) than final-funnel events like purchase as discussed above. Campaigns optimized for installs need to have relaxed bids so that the entire algorithm doesn't seek just the cheapest acquisitions setting aside all quality concerns. Relaxed bids at the sweet spot allow Google to seek high-quality acquisitions at the right price.
Creative Strategy
It's tempting to add a few images, some text and pray that the magic wand of Google algorithm will do the rest. But a little jurisprudence in creating smart creatives and varying them optimally goes a long way. Keep as much variety in formats and messaging as possible. For example, create videos of different lengths from 15 seconds to a few minutes, create images in varied colour schemes, and try with different text ideas and USPs. Google will identify the best combination of provided assets to determine what works best for your audience.
Our experience suggests that a healthy creative mix includes:
10 text ideas, 20 videos and 20 images per campaign.
Use the recommended dimensions to maximize chances of the creative being seen across platforms and placements. Google recently announced a new beta making creative management easier, with only 3 recommended aspect ratios. It's a big change from over 30 image sizes (which continue to stay available). A combination of these aspect ratios and their optimal pixel densities ensure maximum spread.

1:1 (Square)–1200×1200
1.91:1 (Landscape)–1200×628
4:5 (Portrait)–1200×1500

Your Google representative can help you transition into this new scheme before it becomes mandatory in the coming months.

1 USP every text idea
Engaging videos that grab viewer attention, while introducing the brand as early as possible in the video for building awareness and recall.
Include app screenshots in the mix as that offers audiences a flavour of your product/service.
Use multiple languages for a tailored region specific strategy
Use the Creative Assets report in Google Ads to test the performance and make changes accordingly
For a more in-depth read on creative optimization for Google App ads, we recommend this article.
Other best practices
Proper Structuring: Spend time on creating a well-structured account. It could either be geo specific, or based on the optimization strategy, or a combination of both. A well-defined structure will allow for better control and ease in making optimization related changes.
GMC linking: Link your products to Google Merchant Center to make them available in Google's search results across Google properties. This enhances your visibility multiple-fold.
Limited changes: It's tempting to chop and change your creatives, messaging, and/or optimization tactics regularly. However, that does more harm than good. It confuses Google's algorithm and doesn't let it collect enough data points on a single strategy. This leads to poor performance and even more burn. Limit changes to ensure no disturbance in learning. Once sufficient data points are being collected daily, you can make larger changes. Major changes require at least 3-4 days of continuous running for conversion rates to stabilize.
Budget increments: Limit to 25-30%. Higher increments can destabilize the campaigns to the learning stage and it would again take 7-10 days for the campaigns to get consistent with conversions.
Asset Changes: The learning is based on assets (text, videos and images), thus asset changes must be limited. Always add new ad groups instead of changing assets within the same adgroup.
Conclusion
The objective of each brand differs depending on the target market and the app's own life-stage. Google App Ads are simple enough, yet robust and with enough depth to handle all objective buckets and targets. Yet, they require a leap of faith in Google's algorithm, while not completing leaving the performance to the machine. Hopefully the explanation, processes and tips shared in this article will help you set up and excel in your own Google App Ads campaign. To know more, or discuss strategies to improve your campaign performance, reach out to our experts here.