How Performance Marketing and Branding Can Make Brands Start Out in the Digital Crowd

4

min read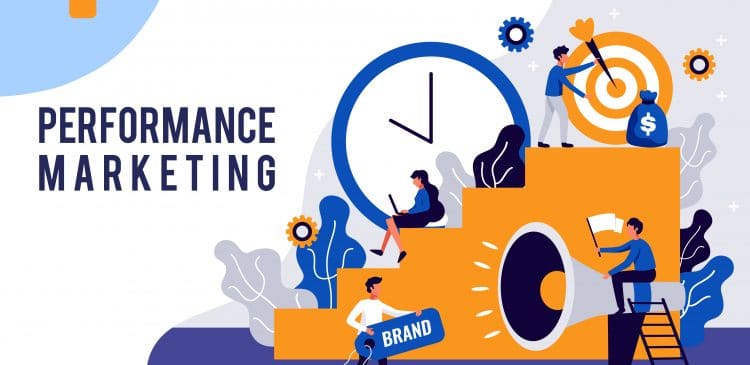 There is a very fine line between a profitable marketing campaign and a campaign that only leads to a complete waste of your time and money. Without the right data to guide you, it can be tough to know where that line is. This is especially true for traditional marketing campaigns like TV ads which are difficult to measure and track. Performance marketing and branding can help with that.
With a focus on measurability, full-funnel approach, personalized communication, and rich consumer segmentation, data-driven performance marketing can be applied effectively to branding for better results. It can ensure that brands are only paying for real, measurable, and tangible results — whether its new leads, more traffic, or downloads on the company app.
Understanding performance marketing and branding
Performance marketing is exactly what it sounds like — performance that is based on marketing. The performance can be based on any metric including sales, hits, views, bookings, or downloads. Performance marketing uses digital automation and big data to develop more customer-centric and personalized campaigns. It provides marketers with all the tools that they need to elevate and modernize their brand marketing.
Performance branding is defined as the use of clear and objective KPIs of performance marketing in order to make brand marketing more efficient and accountable. While there was a time when brand marketing and performance marketing were siloed separately, the advancement in technology and changing user behavior has made it necessary to combine them both. 
The need for performance marketing in today's world
By the end of 2020, more than a third of US households will either be cord-cutters (people who canceled their cable subscription) or cord-nevers (people who never had a cable subscription to begin with). Moreover, 88 percent of the people who still watch traditional TV keep a second device with them at the same time which works as the perfect distraction during commercial breaks. 
The remaining TV audience is also getting older. In the US, the median age of viewers who tuned into the Big Four networks in 2019 was 58.8 years, which means if brands want to attract a younger audience, they need to take strategic digital steps — That starts with performance branding and marketing.
It is the digital transformation of the marketing sector that has given rise to digital performance marketing. The access to vast amounts of data about customer behavior along with automation capabilities has given brands the perfect opportunity to optimize their marketing strategies for a much greater business impact. 
The accurate data points on consumer behaviors and purchasing patterns allow marketers to create more personalized marketing campaigns and in turn boost performance. Similarly, automation makes it easier for marketers to scale their campaigns more effectively and make real-time adjustments. 
Core elements to get performance marketing and branding 
A compiled customer data platform
For effective performance marketing, you need access to accurate data and that starts by creating a single source of accurate data that everyone can agree on. You need a customer data platform that includes data from internal company sources, third-parties, and external partners. Ideally, you would also need a trusted team that can develop, manage, and oversee the entire platform to ensure data integrity.  
Agile decisions
The biggest advantage of performance marketing is that you get access to real-time data which you can then use to make agile decisions and pivot marketing campaigns accordingly. 
Marketers should pursue a thorough test and learn regime to make sure all the new insights they are receiving from the current marketing campaigns are incorporated right away and used in the performance branding programs.
More targeted branding
Marketing teams also need to work closely with their design teams or agencies on all the key elements of performance branding. While data-driven performance branding can be met with skepticism by design teams, it can actually help you content which resonates with the target audience and makes them feel connected to the brand.
Take an integrated approach to performance marketing and branding
It's important to note that performance marketing and branding are not here to completely replace TV and other traditional advertising mediums — Instead, it's a way to revitalize them. When you put real-time, measurable, and objective KPIs in your brand marketing campaigns, you are able to better understand the performance of your campaigns and sync your digital campaigns with traditional campaigns more effectively.