How to leverage Growth Advertising for your brand

12

min read
Tags: acquisitions, advance digital marketing, advertisers, branding, cac, campaigns, channels, conversions, crm, customers, digital growth, dimensions, growth, insights, integrated monitoring dashboards, key metrics, monitoring, optimization, organic, paid, Performance marketing, reporting automation, revenue, roi, scale_business, segmentation, Tracking, unlock_growth, UTM, visitors

Growth advertising uses continuous experiments to identify a user's preferred manner of interacting and converting with your product or service to attract, engage, and retain customers. Customers' motivations, wants, and preferences frequently shift, sometimes even hourly. You can maximize their experience and benefit by developing and delivering a highly customized and personalized message that is in line with the requirements of your target consumer.
By collaborating with a competent growth advertising agency, you can leverage the power of growth advertising to grow your brand and expand your business. This article will give you important insights regarding how you can use growth advertising for your brand.
What is growth advertising?
Growth advertising is an ongoing process of discovery and learning. It's the capacity to experiment, evaluate, and draw conclusions from the information gathered to expand your business. It's a very powerful strategy for gaining new customers. Growth Advertising combines both performance marketing and branding. It not only helps market your brand as a powerful and memorable business but also helps increase your conversations and ultimately your revenue through strategic advertising.
Using growth hacking approaches, you can quickly and simply test several marketing methods to see which ones are most effective. As a result, you can eliminate ineffective methods and concentrate on those that work best for attracting new clients.
How can it help you?
Growth marketing offers a wide range of advantages. The following are other advantages of growth marketing strategies:
It helps generate more leads.
It gives you a competitive advantage.
You can gain more users for your website or app.
It increases your conversion rate.
You can gain knowledge of the marketing strategies that work and those that don't.
It helps in informed decision-making based on data.
It helps generate more revenue for your business.
Most importantly, it is a full-funnel approach.
Let's now examine some realistic strategies you may employ to leverage growth marketing to boost leads and customers.
How Can You Leverage Growth Advertising For Your Brand?
1. Understand and employ the growth funnel
The growth funnel, which employs the AARRR model, is crucial. You must recognize every stage of the funnel, develop a unique strategy for it, and include it in your CRM and analytics software. Undoubtedly, it is a difficult chore. It takes time since it requires data and insights, such as what marketing channels to employ to attract customers, what kinds of content to provide, etc. In order to create a funnel, it is necessary to establish a comprehensive end-to-end customer experience. Establish precise tactics with a focus on client retention and referrals at each stage of the funnel.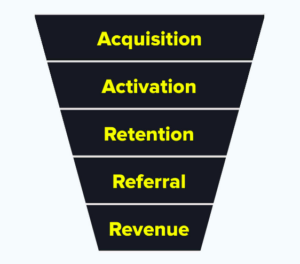 2. Specify and Establish Specific Conversion Goals
Establish distinct conversion objectives for each stage of the funnel. Conversions must be defined precisely, as well as what constitutes a successful conversion. An example of a conversion would be a SaaS user moving from a free trial to a paid subscription. The same could be said for Facebook fans clicking a blog post link on your Facebook page. Create conversion goals for each level of the growth funnel that moves your consumers along. You can develop particular plans and techniques to increase conversion at each point of the funnel with the use of these conversion targets. Customers should not be left standing still at one funnel stage. They must move to the end of the funnel.
3. Employ the Correct Tools
Growth marketing cannot be manually carried out. It makes use of data, which is produced by tools and apps. Growth and marketing success depend on using the appropriate marketing and data tools. What kinds of tools are required? Tools for marketing and keyword research include Ahrefs and SEMrush. Tools for behavioral analytics include Google Analytics and Appsflyer. You can use ReferralCandy for referrals, MailChimp for automation, and Zoho and Shoppify for CRM software. Your toolset must be top-notch. For a smooth flow of data, all the tools must be interconnected and coordinated.
Best Ways To Implement Growth Advertising
Utilize Paid Advertising
Use Pay per click advertising aka PPC. With PPC, you pay for your website to go right to the top when people use search bars and type in specific keywords. PPC's great because people often use search bars when looking for products and services, and you only pay when people click on your ad. How much does PPC cost? That depends on how often you and your ad see them and how high they show up on a list. Paid advertising is especially useful because it helps with high conversion rates. When people convert through your ads, the Customer Acquisition Cost is lower than other methods of customer acquisition. Therefore, you generate higher revenue with a small investment in paid advertising. Even with that, a little bit of money can go a long way depending on how you use it. Google ads, Bing ads, and Facebook ads are all great places to start your campaign
Retarget Your Ads
Retargeting advertising is made to reach users of your website or app who have already visited it. It helps target the audience who are already in the middle of the sales funnel and are aware of your brand. They're an excellent approach to keep your brand in the public eye and remind potential customers about your goods and services. It helps increase your conversions as your audience will likely buy from you if they see your ad more than once.
Since you have access to a variety of information, you can use it to produce audience-relevant targeted retargeting advertising. You can also retarget your ads to remarket your brand to your existing customers. Even though it doesn't work for every brand, it works well with D2C brands. You can easily target ads to customers who have already purchased from you in the past. They are the audience who are likely to buy from you again, and remarketing through retargeting ads precisely helps with that.
Create A Lead Magnet
An appealing offer that entices consumers to join your email list is known as a lead magnet. It might be a cost-free ebook, a special discount, or access to a useful tool. The idea is to lure folks in with an irresistible offer so you can get their contact information. You have the chance to learn more about your audience by developing several lead magnets. and to establish enduring relationships with people by providing relevant content.
Use Google Ad Words
Google AdWords is a useful tool for connecting with prospective customers looking for similar goods or services to yours. You can show up in the search results when people are browsing for your offer by using pertinent keywords. It's a terrific tool for split testing as well as for determining the best ad wording and keywords for your company. According to the platform, you can control a number of variables, including who you target and how much you spend, which also provides you with thorough reports. And you'll have lots of opportunities to produce the most powerful advertisements this way.
Employ Email Marketing
A fantastic method to employ email marketing growth marketing strategies is to test out several email campaign types to find which ones work best for your company. To keep people interested in your brand, you can try a nurturing campaign, a promotional campaign, or a welcome email campaign for new subscribers. Additionally, audience segmentation allows you to target emails better at particular groups. This enables you to customize your messaging and improve conversion rates.
Leverage Social Media
You can leverage the power of social media through Meta ads. Running targeted ads on Facebook and Instagram can help your brand gain exposure from the relevant audience and bring in high-quality leads. Facebook still remains one of the most-used social media platforms and uses a 'push' marketing system so it is likely that advertising on social media will bring a high reach for your brand. Along with advertising, you can use Facebook, Instagram, and other social media sites to publish informative information, hold giveaways and contests and engage with your audience. Make sure you're engaged on the social media sites used by your target demographic. Additionally, test your social media copy, photos, advertisements, and post scheduling. You'll observe an improvement in engagement and other metrics as you discover what works best for you.
Final Words
Growth advertising is a powerful tool for expanding your company. By employing the strategies in this article, you can enhance your sales by reaching more prospective clients and leads. Growth advertising is not only a trendy term. It is more than just a growth strategy or a marketing plan. It's a way of thinking, a philosophy. Gaining more leads is possible with the help of growth advertising. To make it work for your brand, you need commitment, teamwork, and consistency. Starting can be difficult because there is a lot of preparation involved. Getting in touch with a professional growth advertising agency will immediately put you back on track. Not sure how to get started? Reach out to us!