How to make the best out of offer claim ads

6

min read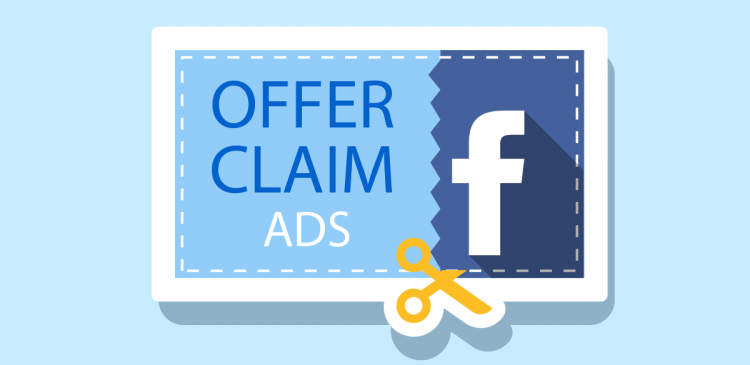 What are Offer Claim Ads and How to Make the Best out of them?

Millions of ad campaigns and tonnes of promotional messages are created each day. So, how can you grab the attention of your target group in this cluttered milieu?
That is where Facebook Offer Ads come in. It is a feature that enables you to attract more business from our Facebook Ads and thus grow your business. Read here how you can boost your business by making the best out of offer claim ads.
What are Offer Ads?

Facebook Offer Ads is a feature that lets you share discount and coupon codes to your followers as well as the potential customers. By using this option, you can promote offers outside the circle of existing followers and encourage people to make a purchase. Although Facebook offers were available earlier, ads for the offers was started in 2016.
You can post an offer free of cost on your business page. This feature is not available on individual profiles. Similar to paid ad promotions, you can pay and boost the visibility of the offers as well. However, you should have a minimum of 400 likes to promote the offer.
There are a plethora of options like add barcodes, put time limitations, limit the number of offer claims, etc. while you make use of this feature.  Furthermore, you can limit the number of offer claims by giving a value in the 'Total Offer Available' field.
How to Set Up Offer Ads?

Creating offer ads is pretty simple from the user's end. You have different ways to set up the offer claims.
Click on the 'Offers' button on the left side of your business page. Go to 'Create Offers' and fill in the relevant details about the offer including the terms and conditions. If you are offering an online discount, you should provide the URL of the website as well. Click on the 'Publish' button to make it available for users.

You can create an offer by selecting the 'Offer Claims' as your advertising objective while you create a new campaign. Once you give the objective, you will be prompted to give details like add barcodes, create headline and description, upload images/videos, message/mail notification, etc. Next, you have to enter the attributes of your target group, budget and scheduled time of the offer. You will get a preview of the offer ads in the next step. Hit 'Place Order' to give the final nod.

You can create offer claim ads on adset level by using toggling button and following the above procedure in case the offer has not yet been created.
How Does Offer Ads Work?
When your customers or target group claim the in-store offer, they receive a barcode or QR code which can be accessed using their smartphones. They can redeem the offer by scanning the QR code at the bill counter at the brick and mortar store. If the customer claims an online offer, they get a discount code which can be used at the time of checkout in the online store.
In this feature, you can create three different types of offers. They are as follows,
In-store only offers

– Customers can claim this offer only if they visit the physical store. They can either show a print out of the offer claimed or present it in their smartphones to redeem the discount.  Thus, this feature can be used to increase the footfall to your store as well.

Online only

– Customers can claim the offer only when they buy the product or avail service through a digital platform, say the e-commerce store.

On–line and in-store – By choosing both the options, your customers will be able to redeem the offers either at the retail outlet or online store.
Benefits of Offer Ads

Offer ads are easy-to-create, highly customizable and effective in boosting your sales and encouraging people to buy the product. It lets you create a sense of urgency among the followers or target group – as it shows the expiration date or hours left to claim the offer or number of offer claims remaining. This might motivate potential customers to make a purchase. Thus, offer ads will surely boost your sales. More benefits include:
Accessibility

– It is easily accessible to people as they can view/claim the offer through their smartphones. People will likely show interest in offers rather than sponsored posts or brand messages. In addition, they will share the offer and thus increase your brand reach as well. Not only it helps to connect with the existing customers, but also increase your reach to new users.  

Boost in revenue

– Offer ads will bring more people to your store who will likely make a purchase as they can get it at a discounted price. Unlike paid promotions for brand posts, offer ads will likely result in increased revenue.  

Automatic reminders

– People who claim the offers will get automatic reminders so that they use the offer before the timeline.

Increased footfall

– When the offers are in-store only, people will likely visit the retail stores thus resulting in increased footfall.
How to Make the Best out of Facebook Offer Ads?
The newsfeed of a Facebook user will include a lot of clutter. Hence, it is more or less a challenge to attract your target audience to claim the offer. Here are a few tips to create offer ads that give you the desired outcomes.
Keep it short and simple

– Make sure you keep the content simple and straight. Do not confuse the users with lengthy terms and conditions or by including multiple steps to claim the offer.

Use attractive images

– Keep in mind that an engaging image will attract the user's attention to the offer than detailed texts.  Make sure you use high-quality images. As social media marketers are aware of, text content cannot take more than 20% of the promotional images.

Make discounts appealing

– To entice your customers, you need to provide a discount while you create an offer. Your business will benefit only if the offers are good enough to catch the attention of the user. Keep the minimum discount rate at least 20% of its price.   

Freebies work

– You can think of offering compared to a discount code. As per experts, people are likely to make a purchase when you offer freebies.  

Give time

– Ideally, you should give at least a week's time for the people to claim the offer. Set realistic expiration time so that people get enough time to claim the offer.

Pin it – After the offer is over, you can pin it to the business page so that visitors see it anytime when they come to your page. You can re-share the existing offer rather than creating new ones later.
Wrapping Up
Facebook Offer Ads is a feature which is worth trying out as it will help to boost your sales directly. It is pretty simple to set-up the offers ads. However, to make it work, you need to promote it and remind your users periodically that offer is still claimable. Make sure you do not oversell the offer. You may lose the customers. Moreover, you can look forward to restricting your loyal customers from viewing offer claim ads as it sometimes goes against the image of high-end brands.
If you are looking for effective social media marketing strategies to grow your business, let's talk!