9 Tips to step up your Fb Re-targeting Game

6

min read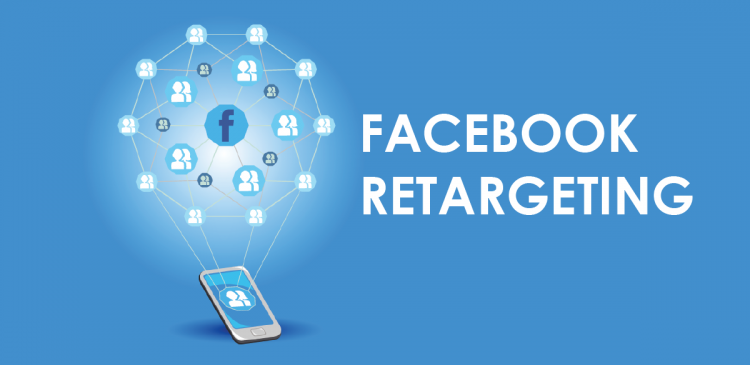 Re-targeting works by following your customers around the web with related offers. A user shows greater interest in the product or offers if they have prospected a similar one before; they are your potential conversions. Facebook provides a tool to harness the power of re-targeting on tip of our fingers. But this is where the question arises, "How do you focus your re-targeting ads just to your best customer personas?" Re-targeting ads from Facebook Pixels combine the best of both worlds: Facebook's demographic data and your website data. Let's say that you know 45-54-year-old males living in metro cities are much more likely to convert than 25-34-year-old females living anywhere in India. Facebook enables you to execute smart re-targeting strategies to reach your best customers.
9 strategies to maximize the gains from Facebook:
1. Re-target visitors of specific pages, by displaying similar ads
A crucial thing to remember is that we can show our visitors the specific ads that will more likely be attractive to them.  It seems like a hassle, but it's actually quite simple, and in the long term, definitely worth the effort.
To get started, move to the audience tool provided by Facebook, and create a custom audience for visitors who visited specific web pages. In the example below, you can see that we are targeting people reading blog posts that contain short story templates. Similarly, you can target specific visitors according to their landing pages and display ads most relevant to their interests.

2. Showcase Products you know they're Interested In
The internet is the perfect place to do a little window shopping. Customers spend a ton of time on searching products with no intention of actually making a purchase. Inevitably, they fall in love with a few new styles and linger on the product pages for a while, contemplating whether they would wait patiently for a month or buy instantly.
In fact, this may be due to a number of reasons that the customer didn't sign up or check out their cart. They need a final wave of enticement to bring them back and finally make them sign-up or check-out their cart.
Simply create a custom audience and exclude the people who have signed up to allocate resources into targeting this segment of customers. It incredibly effective, as it reminds them just how much they loved the product in the first place and tempts them to return.
3. Re-target the visitors who are interested in your pricing plans
Facebook enables you to employ efficient re-targeting tactics with the option to create a custom audience. One of the most powerful tactics is to create the same for the visitors who visited your site's pricing page.The logic is simple, these are the customers who are currently prospecting the market and are much more likely to become paying customers.
It is crucial to ensure that your ad campaign encases them. Naturally, this segment of visitors demands the highest bid possible to ensure that you're tapping into every such potential customer.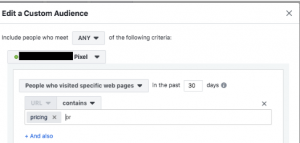 4. Re-target by time segment
Time segmenting, an elementary re-targeting tactic which is often overlooked. The primary focus here is to narrow down customers by the time frame of their visit; according to when they visited your site.
The objective is straightforward, to spend more on active users who have recently visited your site as they have a fresh impression of what you have to offer, and less on the ones who have fading memories of your offers because it's been a while since they last visited your site.

5. Exclude irrelevant users
Targeting a huge customer base sounds awesome. But what if the target doesn't fall in our Venn diagram? Therefore, Instead of just segmenting our visitors, we can also try to exclude the irrelevant audiences with a much lower chance to convert.
Not everyone who reaches our website is really interested in what we are offering, and therefore there's no need to spend good marketing budget on those visitors. We can also exclude visitors who spend less time on your website. Visitors who just spent a few seconds on your site and bounced away have a much lower chance to convert, and we might as well want to consider excluding them from our re-marketing lists.
Here's an example of how you can do it on your Facebook account:-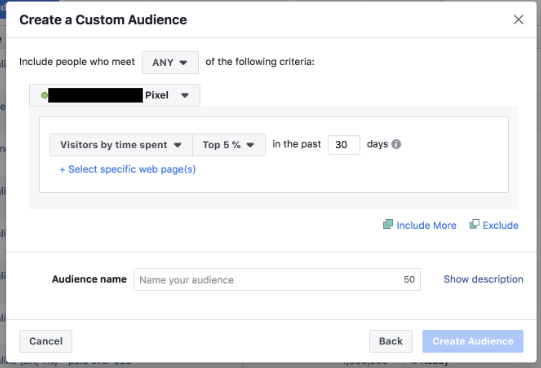 6. Re-targeting users who visit more than a particular number of pages
The world has always been confused between illusions and reality. Therefore it's necessary to analyze our actual growth.
Page views can give an indication of how popular a post or page is. But having a high number of page views for a post doesn't necessarily mean it is popular. In fact, if you want to see the number of sessions for a page, the best way is to look at the unique 'pageviews' metric. For example, a visitor visits a page about an exotic tourist place, then reads about the top tourist spots there and then visits the page about the place again. During this session, the exotic tourist place page is viewed two times. These two pageviews in this single session will be added to the total number of page views for that page. But only one unique pageview will be added to the total number of unique pageviews for that page during a single session. This will also help in highlighting users specific interests and further, following up with a targeted campaign to give the most turnout.
7. Cross-sell and upsell
Multiple times, People have been lured into buying a wireless Earphone  just while making the payment after buying a brand new Mobile. This is called cross-selling. Up-selling and cross-selling are cousins of well, selling. Up-selling is a strategy to sell a superior, more expensive version of a product that the customer already owns (or is buying). Just like showing users high AOV products who have already purchased from your brand.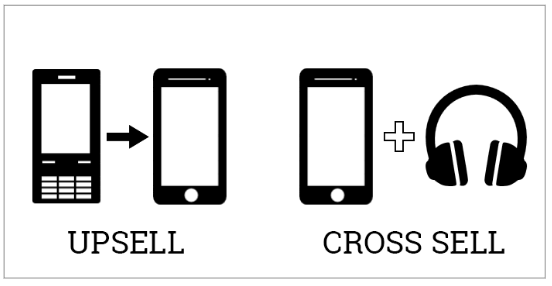 8. Low conversion rate – High Traffic Sources
 You must have encountered many source mediums while checking your google analytics funnel which are giving you considerable amount of traffic( Decent time spent and pages/session) but hardly any conversions. How to move these users lower the funnel? Create a custom audience using Facebook pixel with websites containing that particular source/medium and run a personalised ad for this list. For an e-commerce having very high traffic from pinterest which was hardly converting, we ran a campaign with messaging like: "You have an awesome choice, why not make these best sellers yours? Whats more get a special x% discount!" and it worked like charm.

9. Treat your Facebook and Instagram followers specially
Using Custom Audience, you can create audience of people who are engaged with your facebook page / Instagram handle (upto 365 days). What's more you can filter them further, such as people who messaged your insta handle or clicked on any CTA.
Facebook and Instagram engaged people have better chances of conversions as they are already consuming your social content. Go ahead and tap these gems to step up your Acquisition game.