All that you would like to know about Facebook Ad Objectives

4

min read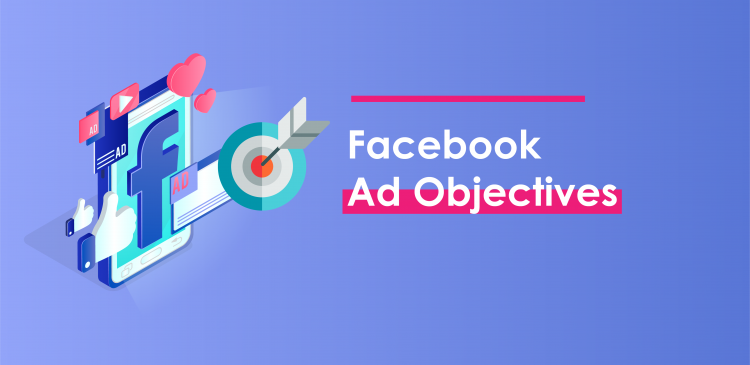 All that you like to know about Facebook Ad Objectives

Do you feel confused with when choosing for Facebook Ad objective when setting up your Facebook Ad campaigns?
Facebook offers a lot of advertising objectives that help you reach your business goals. The ad objectives are what you want people to act when they see your ads. There is a potential way to generate better results if you take the time to understand what each of the objectives means. You can aid Facebook in delivering your ads to those people who are most likely to choose the right option for the Facebook ad campaign. Thus, selecting an ad campaign objective is how you tell Facebook what you want.
It is under three over-arching categories; 'Awareness, Consideration and Conversion' a total of thirteen ad objectives are classified, as detailed below:
A.   Awareness:  These ads are the top of the funnel objectives are broken down into the following three sub-categories:
1.    Brand Awareness: Use this when you are looking for awareness enhancement of your brand, and also don't want people to engage with your content, click through, opt-in, or purchase. For example, McDonald which is trying to put its brand in the mind of consumers does not look for generating web traffic, leads or sales.
2.   Reach: Use this to reach the maximum number of people of your small target audience over a shorter period and within budgetary constraints. This ad objective helps promote limited-time offers or remarketing campaigns.
B.   Consideration: These ads objectives are middle of the funnel having these six sub-categories:
3.  Traffic: Use this when your goal is to drive traffic outside of Facebook allowing your audience to go through a blog post, listen to a podcast episode, visit your landing page, or discover your app.
4.   App Installs: Use this when you wish more people to download and use your app; as it is one of the best ways to do it.
5.   Video Views: Use this when your primary aim is to get more people including cold audiences to view videos but without wish from them to click on your link or convert. It helps build up a video engagement audience that you can use for retargeting purposes for future advertising campaigns.
6.   Lead Generation: Use this when you want to generate leads on Facebook right within the ad but without driving traffic to your website. It allows you to collect the name, email address, phone number, etc. against downloadable contents. You can do this within the Leads Set-up section of your Publishing Tools on your Facebook Page.
7.   Post Engagement: Use this when you want more people to engage with your ad to get their reactions, likes, comments, and shares reflected in more Page Likes, Event Responses, or Offer Claims. You may use it for retargeting purposes for future advertising campaigns.
8.   Page likes: The 'Page Likes' is a type of ad that you've to run on Facebook to encourage people to 'Like' your Page. When someone 'likes' your Page, definitely he shows interest in your business. The Facebook now have many advertisers to put your posts in front of people for free. When someone 'likes' your Page, he is subscribing to receive occasional updates in the form of Facebook posts.
9.   Event Responses: They drive people to the events that you create on Facebook. The ad is a typical Facebook event invite, calling users to click 'interested' or 'going' to RSVP. They provide for a seamless pathway from newsfeed to invite. They look more like a boosted post than a straight-up ad, which contributes to their authenticity.
10.   Messages: This is Facebook's newest campaign objective optimised to allow your audiences to start a conversation with your Facebook page. It can be excellent in increasing the awareness as well as make sales, RSVP to events, and many other goals you may have.
C.  Conversion: It is the bottom of the funnel that is broken down into three following sub-categories.
11.   Conversions: Use this when you wish people to navigate your website to opt-in, register and download to finally convert by visiting your store to purchase. It helps you track whether they have achieved that objective by looking at specific 'thank-you page'.
12.   Catalogue Sales: Use this when you have an e-commerce store and wish to promote products from the catalogue, which requires frequent updating once it integrates with the facebook, which helps generate product feeds and create remarketing campaigns targeting online store visitors.
13.   Store Visits:  Use this when you have physical stores at multiple locations and wish to promote your business to the nearby people, you need to set-up your business locations in the business manager. This ad objective can be a great way to capture foot traffic to your business, delivering ads that are timely and based on people's current location.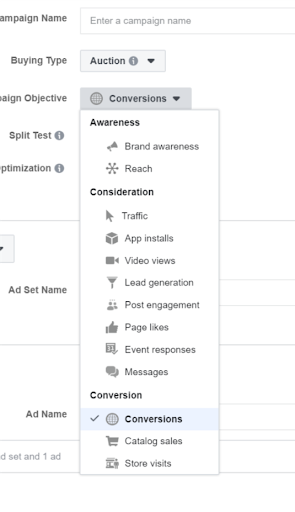 Wrapping Up
Thus, select a Facebook ad objective, taking in to account the highlighted potential exceptions, that best aligns with your aid campaign goal based on the desired action you wish your target audience to take.
Which Facebook ad objective do you use with the soundest returns for your business?
Let us know your comments below so that others benefit from your experiences.