Facebook Messenger Marketing Or Email Marketing?

2

min read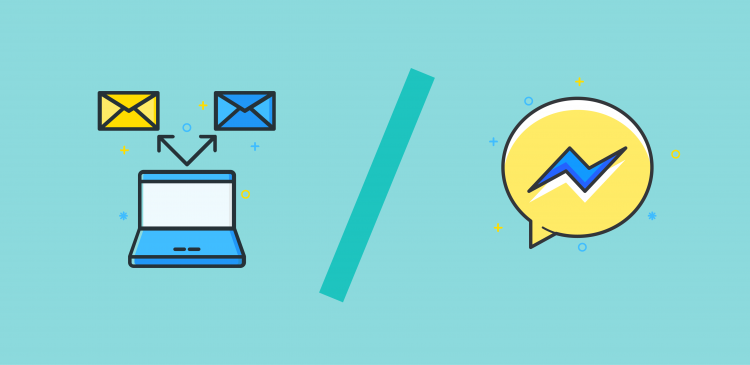 Since its inception, Email has held the position as the top ROI channel for most of the businesses. With Facebook dominating the internet, Messenger is now continuing to grow at an unprecedented rate and shows no signs of slowing down. This brings in a very promising channel for digital marketing. High level of personalization with custom graphics and messages, that are targeted at 'engaging' the follower and not just driving them towards a sale. With stats proving this point, HubSpot saw a 619% increase in CTR with Messenger over email.
Firstly, it's important to understand how messenger marketing works. A 'chatbot' instigates a series of dependent questions to collect the necessary information to understand a client's intent, and then delivers the right content. Messenger marketing is slightly costlier than the usual traffic campaigns but the customer engagement is worth it.
"Time is money. Save both by talking to us now"

[spu popup="2509″]Let's have a friendly chat to find out![/spu]
How to decide whether an email would make more sense or facebook messenger?
CONTENT- Depends on your marketing goal.
FB Messenger is meant for short, quick communication (You get 640 characters to send in a single message). As a result, you've got 1-2 sentences to persuade people to respond or take an action. If you're looking to tempt your users down a purchase funnel then you could make use of Messenger's buttons.
Emails can be preferred while sharing documents, photos, boarding passes, receipts, etc.
DEMOGRAPHICS– Decide based on your audience.
Email has been and still is older generations' line to businesses. People accustomed to correspondence over emails would prefer it this way.
However, according to an E-Mail Marketing Metrics Survey, emails only have a 21.3% open rate; 4/5th of all emails never get opened! While targeting a younger generation that is glued to their cell phones, FB messenger is the key.
MOTIVE– Understand how to convey
Simplest difference between email and messenger can be compared to the difference between talking and chatting. Email is talking at the consumer. Messenger, on the other hand, is what you want from a sales rep. It's a conversation. Email marketing is more of a one way street and more 'marketing' focused.
Another important factor that needs to be considered is that Email addresses tie to finite periods in our lives while Facebook IDs will never change. Messenger Marketing means you can engage with someone throughout their life. While chatbots don't guarantee clicks, they distribute content spontaneously while having no delay in engagement.
There are products like ManyChat, It's Alive, Chatfuel and more that are nailing customer engagement using the Facebook Messenger. Take a look at the email campaigns that are already providing a high ROI for you and adapt them to Messenger. Email and Messenger together will make your business more money than picking one. Which one you should use, when and for whom, comes down to context.