Ultimate Cheatsheet For Hiring RIGHT Performance Marketing Agency

7

min read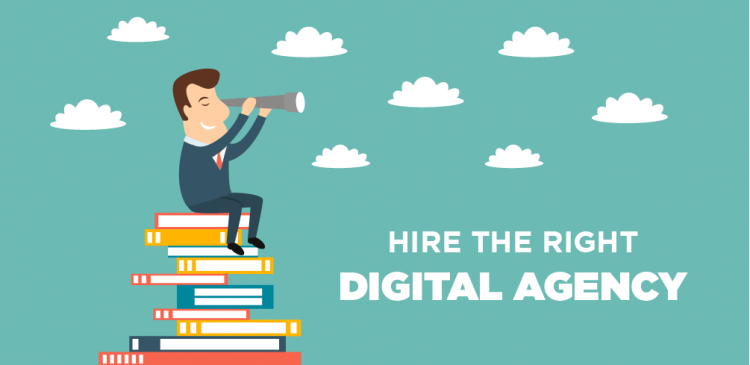 Organizations which have resorted to outsourcing their digital marketing efforts have a lot to consider before going all out for an agency.
An ideal performance marketing agency would not only help you stay relevant and ahead of the curve but would bring lesser customer acquisition cost. A team of experts who understands your needs, considers your business as their own and helps you actualize your goals is who you should be looking for. 
Demands and requirements have changed, and each is unique to its domain. 
But before jumping in to sign the agreement, you need to have a clear roadmap ahead of you, in terms of expectations, investment, and returns.
When seeking a performance marketing agency to partner with, here's what you should expect and look out for. 
Set Up Goals 
Not knowing where you want to go is like shooting arrows in the dark. 
Setting up objectives for your marketing campaigns can help you expand and reach the target in a defined period. When working with a performance marketing agency, this all becomes more important. 
Identify your Needs and Set Benchmarks 
As a smart advertiser, you always set out goals before launching a campaign. Unlike the traditional way, performance marketing helps you set goals and then pay only for what sells. 
But more important is setting up metrics which are realistic and achievable. They can be based on either comparison to the performance of the last campaign, or increase in website traffic, leads, or conversions.
Set up strategic targets, and a budget in which you would want to achieve the goal. 
This would keep the business focused on the most important high-level objectives so you can further plan to deliver on the milestone.
Discuss the benchmarks beforehand on which you would evaluate their performance, say 40% more ROI or 30% lower CAC. Setting up mutual targets is fruitful in the long term for the client-agency relationship.
How To Measure and Determine ROI?
Setting up goals is good but more important is to identify the way they are achieved and possible backup for the unpredictable times. 
It is crucial for you to know how the prospective agency will measure and determine the return on investment gained from the (marketing) campaigns. This will be helpful in counting the project as a success or failure. It is important to know that they have a set procedure in place to provide you with these periodic updates.
With a number of marketing channels to monitor, regular reports with daily changes in key metrics are needed. How do they plan to work on that?
Someone who is not abreast about updates in marketing (channels) might not be the best bet you are planning to scale your business with.
How Long Has Their Previous Partnerships Lasted?
On the grounds of such information,one can not only analyze the success of a business relationship, but also gets to know how good they are to work with. You don't want to go out every six months to look for another agency.
Powerful Client-Agency relationships are essential for business success.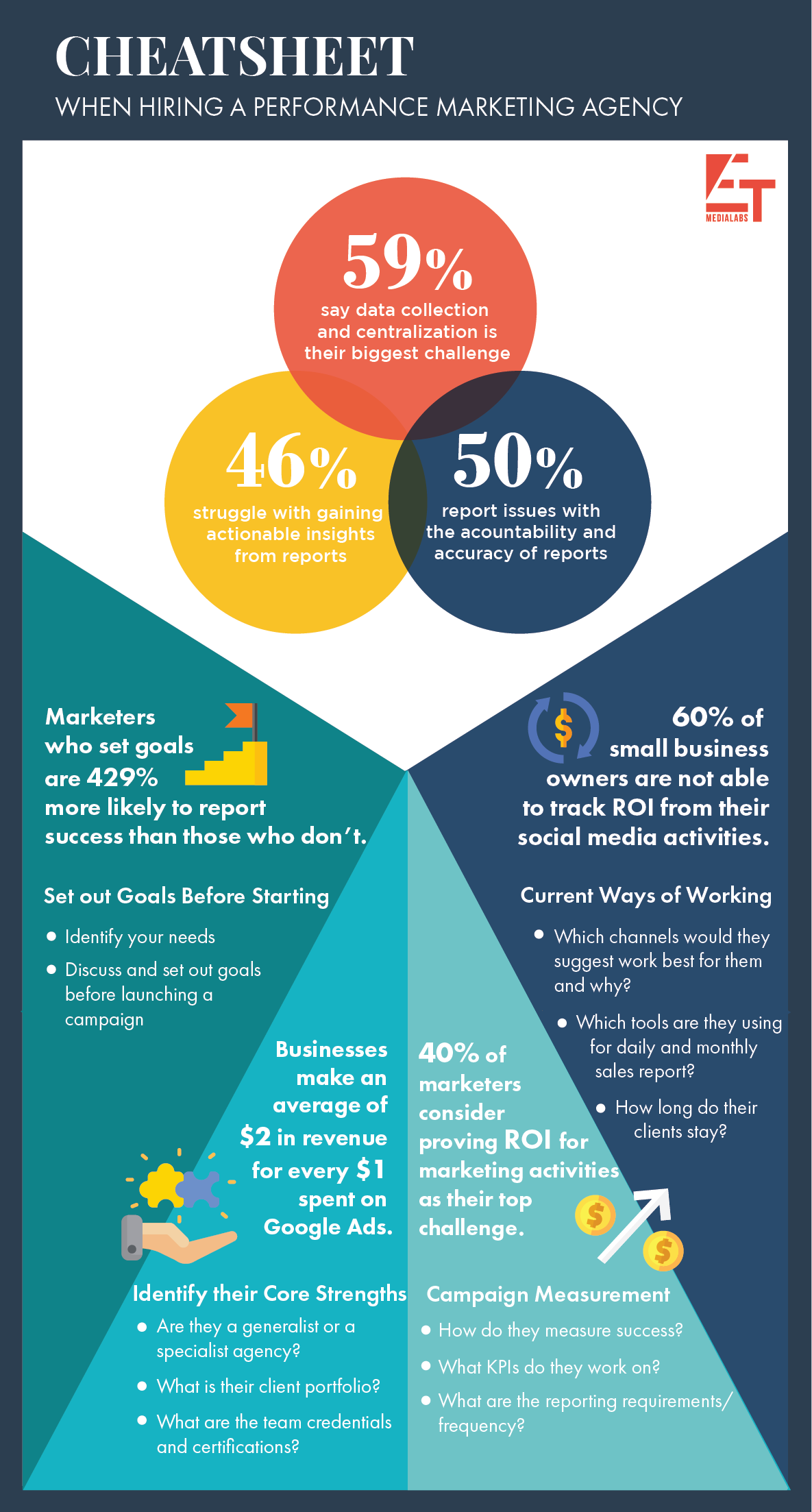 Identify their Core Strengths  
Search for Digital Marketing Agency and there are more than 1 billion results on display.
With the competition so high, which agency will rightly complement your business goals? 
Today's digital marketing experts need to wear many hats and must possess a diverse skill set, over being a brilliant marketer. However, when it comes to a niche like performance marketing you need to identify where their core skill set lies, to determine if they can do what they promise. 
Generalist vs Specialist Agency?
Your goal is to scale business in a sustainable manner, so while choosing an agency think of long term value that its specialization can bring on board. Choose the agency with the best value rather than the best cost. 
Look out for their core services. Get an idea over what kind of quality work they have been doing.
Ask them about the strategies they used for these companies and what type of results they received. If the marketing agency has not worked with other companies in your industry, consider asking them how they plan their marketing campaigns/strategies to complement your vital business goals.
The depth and quality of a work in an arena is of utmost importance. What is the fun of hiring an agency which touches only the tip of the iceberg of your expectation (or industry benchmarks) over your current performance?
Current​ Client Portfolio
While the experience of five years is commendable, it is equally important if and how they have overcome challenges with their clients. 
Client portfolio helps you see the bigger picture of who they are doing business with. What kind of challenges they came across and what kind of work they did. 
Look out for case-studies and success stories on their website and on the web to help understand the depth of their work. Reference checks can be another parameter, wherein you get an assurance of the quality of the work they are currently doing.
Diversification of clients from different business verticals is a plus point as it provides cross-business and cross-vertical learning.
Team Credentials (Certifications) 
While the duration of the agency in business is important. If the team is filled with newbies, you are in trouble! 
Ask for the credentials of the team. A background check of the core team would give an idea of how reliable they can be. Don't hesitate to ask for the team lead and their past work experience.
​These days most of the Ad networks have their certifications on the agency level. Google, Facebook all have certified partners as well as individual certifications. 
Certification ensures that the agencies have the right guidance, dedicated support, and training to help you grow and succeed. 
A Quick Recap of the Questions
Have you identified goals and set up a benchmark for the campaign? 

How do you plan to measure and determine the ROI?

What KPIs do they work on?

What is their client portfolio like?

Do they have the bandwidth for your project? 

Do they have prior experience in your business vertical? What approach did they adopt?

How long have they worked with their past clients?

What are their team credentials?

To what extent do they leverage technology and what tools do they use?

How do they provide reporting and analysis and measure the results delivered?

How do they use metrics for themselves? (Do they practice what they preach?

Did they provide any groundbreaking insights into your current work with their audit?

How much value can they bring on the table?

How well did they understand your business?

Were the projections in line or off the track?

Is the agency fee in lines with the projections?
Sum it up
Hiring is never easy. Close the deal only when you are satisfied 100%. As core specialization varies from company to company, you should be very specific about your expertise requirements. 
Trying to get your wants met, for the time being, may prove inefficient in the end. You may have to waste your energy looking and choosing a new company who is unaware of your preferences.
Establishing a personal B2B relation, building trust, and getting your problems handled by one excellent vendor throughout your business lifecycle is what you should aim for.
We provide performance marketing expertise. Talk to our experts now!
We provide performance marketing expertise.[spu popup="2509″] Talk to our experts now![/spu]
Infographic Questions
Marketers who set goals are 429% more likely to report success than those who don't.
Set out Goals Before Starting 

Identify your needs

Discuss and set out goals before launching a campaign
60% of small business owners are not able to track ROI from their social media activities
Current Ways of Working

Which channels would they suggest work best for them and why? 

Which tools are they using for daily and monthly sales report?

How long do their clients stay?
Businesses make an average of $2 in revenue for every $1 spent on Google Ads
Identify their Core Strengths

Are they a generalist or a specialist agency?  

What is their client portfolio?

What are the team credentials and certifications?
40% of marketers consider proving ROI for marketing activities as their top challenge 
Campaign Measurement

How do they measure success?

What KPIs do they work on?

What are the reporting requirements/frequency?