What the digital world would be like with Apple's App Transparency Tracking framework in iOS 14?

12

min read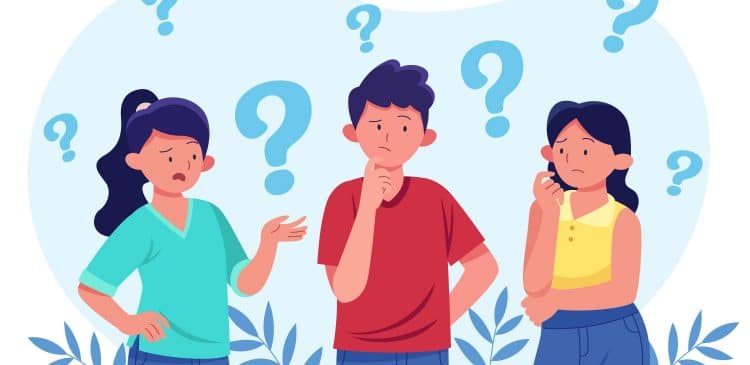 In our previous article, we went into considerable detail on what Apple's App Transparency Tracking (ATT) framework entails.
Now, let's focus on how this is likely to impact digital advertising and what advertisers need to do for a proper transition. 
What does the ATT update mean for Advertisers?
In Apple's previous push towards user privacy, they had introduced a similar prompt in iOS 13 asking for consent to share location information. Opt-in rates to allow location-sharing with apps when they're in the background plummeted from 100% to below 50%.
Facebook expects similar outcomes in the latest scenario. "In testing, we've seen more than a 50% drop in Audience Network publisher revenue;" and, "Our studies show, without personalized ads powered by their own data, small businesses could see a cut of over 60% of website sales from ads."
If users opt out of tracking, this will reduce opportunities for advertisers to serve them targeted ads, and may have a dramatic impact on performance.
Most platforms (including but not limited to Google, Facebook, Twitter, most DSPs, MMPs like Adjust, Appsflyer, etc.) will use SKAdNetwork for connecting to platforms using it via S2S integrations, while Apple Search Ads will have its framework.
The SKAdNetwork appends attribution parameters upon the ad click. When the app is installed and opened for the first time, it will send an install post-back to the ad network or MMP, including the campaign ID and other related information.
It offers click-through attribution for Publisher ID, Campaign ID, and Conversion Value (set by the advertiser). However, it excludes view-through attribution for apps and click-through attribution for browser, email, and non-in-app ads.
As a result, ad networks like Google and Facebook will have significantly less insight into the apps that get installed via ads. Consequently, so will app developers and marketers.
What Percentage of Mobile Users Globally and in India use iOS?
Global: 27.43%

India: 2.85%
Source: statcounter data 2021
India's percentage is lower but is still sizable in absolute terms, and is especially attractive in terms of customer value for advertisers.
Advertisers will be impacted primarily with respect to:
Ad Targeting

–

Many targeting types (including re-targeting) will no longer work for users that have opted out of sharing their respective IDFAs. Ad inventory on all platforms will get impacted due to limited tracking viability.




The practices which have evolved over the last few years such as running on a broad audience will no longer be suitable practice going forward. Advertisers will now need to define precise audiences (preferably mutually exclusive & exhaustive) and manual interventions on optimizations would be required.

Ad Measurement

–Mobile Measurement Partners (MMPs) have become ubiquitous in the industry, having built their measurement and fraud-detection capabilities on top of IDFA. Now they have to move to SKAdNetwork, which allows for conversion data to be passed back at the campaign level. This, coupled with whatever probabilistic models they come up with, will still not be enough to compensate for the highly precise IDFA based targeting.

Ad Optimization

–That holy grail of performance marketing, ad optimization, will cease to exist in its current avatar. In the absence of IDFA, an ad campaign cannot have frequency capping, optimization basis recency, segmentation, behavioural targeting, and more. Also, Apple will pass only install level data at the campaign level. Say goodbye to deterministic optimization on other goals like purchase, view-through, repeat purchase, and so on. Note that while ad targeting may not get affected significantly on Google and Facebook, optimization most certainly will.

There will be lower usage of events such as acquisitions. Acquisition as an event needs to be tracked separately being highly customized.
Attribution

–The entire game of progressively making your ad campaigns better depends on attributing the successes and failures to corresponding tactics, media, and/or data.

Multi-channel attribution will suffer unless SKAdNetwork adds more functionality.

There is a stark limitation in the install post-back. Now there is only a 24-hour window from Apple's side, meaning attributing to converting media after that will be well-nigh impossible.

Even large platforms with deterministic datasets are limiting their attribution windows. Now by default, Facebook is limiting the attribution window to a 7-day click and a 1-day view, instead of a 28-day click and a 1-day view. This will reduce the number of events recorded by campaigns/ad sets/ads, impacting the benchmarks and their learning.
Is this going to affect only in-app advertising or mobile web too?
IDFA and its Android counterpart AAID are device identifiers used in mobile apps only. If a user accesses the web via a mobile browser on their Apple device and does not interact with any in-app environment in the session, the advertising they see will still be governed by existing cookie-based identification.
What are the likely responses to mitigate these issues?
Targeting focus will shift from behavioural to contextual
In the short and medium-term, ad targeting is likely to move to be contextual rather than behavioural, as is the current norm. Privacy norm compliant contextual signals like time of the day, device model publisher, content, general location (city, country), etc. will allow advertisers to target users.
Since precise audience attributes in targeting won't have the same impact in the new system, it will help if mixed audience sets are run, which would help reduce CPMs and CPCs. The disadvantage, of course, will be less control over the audiences.
Conversions API or Server-to-Server integration are going to become the topmost priority for all the advertisers.
Since iOS will limit data collection from all the apps, using a server-to-server integration as a method to parse data from the backend to the ad platforms (Facebook, Google, etc.) will allow for campaigns to be optimized on them and keep the performance stable, and even improve.
S2S integrations will gain much traction because of their inherent strengths such as 
Relying on back-end based tracking, which is going to be more precise vis-à-vis pixel-based data 

Leveraging first-party data (no limitations on this yet)

Building advanced analytics and campaign strategies
Read more about S2S integrations, their benefits, and how they can be implemented here.
Facebook has released its Conversions API update, making it easier for advertisers and their partners to integrate. While the same system would not work for Google, a custom S2S integration will go a long way in keeping things in control. 
Measurement will be based on probabilistic models
With no IDFA based deterministic data, and with only one post-back per user per app, many measurement goals including and beyond installs will need to be worked upon in novel ways. Ad Networks and MMPs are working on probabilistic models that consider previous funnel-based performance metrics to create predictive decision trees to measure, attribute and optimize.
What Are The Next Steps for Advertisers?
Make sure your apps are ready for the new iOS 14.5

Update your apps as per the ATT framework, meaning they must ask for user permission to track them via the device's IDFA

While submitting your app for review, any other form of tracking, like name or email address, must be declared in the product page's App Store Privacy Information section. Only upon getting user permission can these be used. Also include a purpose string in the system prompt to explain why you'd like to track the user, as per ‌App Store ‌ Review Guideline 5.1.2(i).

Do not attempt to bypass the system with fingerprinting and other technologies. Apple has already stated, in no uncertain words, that these continue to be a violation of the

Apple Developer Program License Agreement

.

Update external SDKs on your app

(MMP, Facebook, Firebase, Google etc.) to support SkAdNetwork and Apple Search Ads Framework

Implement Conversions API or Server to Server integrations with your advertising partners.

Timing for this is extremely crucial, advertisers should move towards S2S integrations ASAP. There is a journey involved in the entire process that will take time, comprising:

Liaisoning with own tech team or partner/vendor

Approving data sharing with legal and policy stakeholders

Testing your data connections

Validating data volume and quality

Testing for performance efficiencies

Set Conversion Value Schema/Strategy

: Enable conversion value sync for FB test

Talk to your agency

to discuss how to set up each channel moving forward as well as success metrics for paid media

Do a Tech Stack Evaluation

and make sure there is consistency across your stack avoiding breaks in reporting/attribution
Bonus tip #1: Focus on building a "First Party Data Strategy"
First-party data is your holy grail. Start working towards building robust first-party data-derived identity graphs of your users. Invest in the right sources, DMPs, data aggregation pipes etc. if needed for the same.
Build a strategy for mobile engagement post-install or action. Leverage marketing tools like email, push notifications, in-app messages, SMS, chatbots, etc.
Bonus tip #2:
Test, Test & Test
Due to unavailability of a lot of third party data and user level attributes, FB would no longer be as efficient as it currently is. We may need to go back to the times when manual optimising was way more powerful. So building contextual audiences, testing and scaling up will again become an important part. 
We may see industry moving back to well researched narrow audience targeting. Passing S2S events around transaction, acquisition & revenue and then optimising manually by testing a combination of audience, creative and objective may become the industry norm.
App Tracking Transparency effects for Facebook's ad platform users
As much as Facebook has been vocal in criticizing Apple's move, it also has taken the stance to comply with the policies. At the same time, it has warned advertisers of up to 50% revenue loss.
It has also published in-depth articles on the expected impact of Apple's announcements, what Facebook is doing, and what action advertisers need to take. Marketing teams leveraging Facebook's platform for ads need to understand and adjust their plans in light of these restrictions.
https://developers.facebook.com/blog/post/2021/01/19/actions-partners-mobile-web-advertisers/
The biggest impact for Facebook advertisers will be limited targeting options and tracking. However, an activity/campaign (including user actions) that resides entirely on Facebook platforms (like e-commerce on Facebook with payment checkouts included) will continue to benefit from Facebook's deterministic data.
Also of note is that Advertisers will now only be able to use a maximum of 8 events for campaign optimizations (including the standard events). Page view events, link clicks and landing page view optimizations aren't included in the 8 event limit.
This is going to translate into more and more server-to-server integrations (conversion APIs), helping advertisers pass events directly to Facebook. With the enhancements by Facebook to the Conversions API, the plug-and-play setup is now supported by various e-commerce platforms. For example, the systems using Shopify will require only 15 minutes to set up the conversions API and hit the ground running.
Steps recommended for FB
Verify Your Domain in Facebook Business Manager
To track activity from iOS users after the ATT prompt, Facebook will introduce Aggregated Event Measurement. We recommend all advertisers verify their domain(s) to ensure they have the authority to configure conversion events tracked on their domains.
It's required by Facebook that businesses verify their domain if the domain has pixels owned by multiple businesses or personal ad accounts. If these domains are not verified, the advertiser cannot edit the domain's conversion event configuration.
Update Facebook SDK to the latest version
Review events to be sent to the pixel
Configure your app events
Setup Apple's SKAdNetwork API/ perform S2S integration with the help of your advertising partner
Update attribution window for affected automated rules etc.
To see the list of tasks, go to your ad account, click on the 'Resource Center' tab (left of campaigns tab).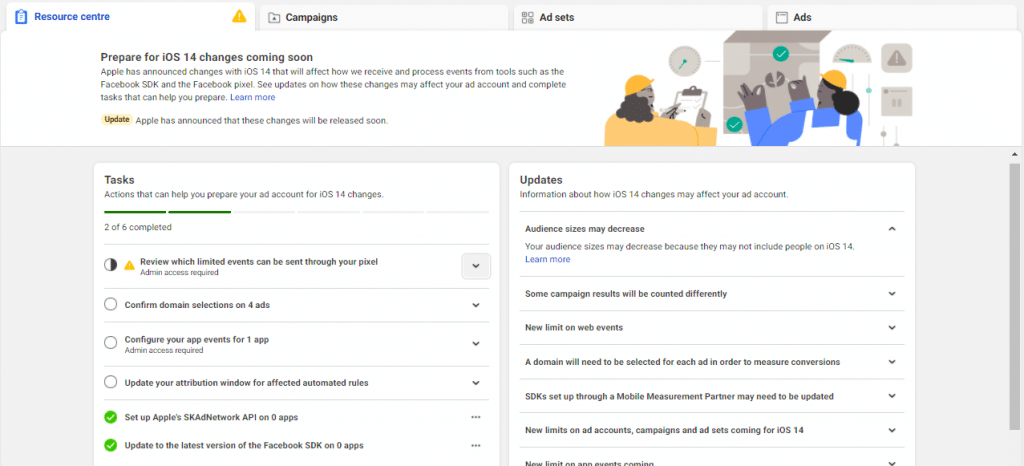 The process can take up to 3 months. Thereby advertisers must jump into it on day 1 itself.
As mentioned earlier, while conversions API does take care of a lot of things for FB ad accounts, the same solution won't work for Google. For Google, custom integration is required and can help in passing all the required events to google.
App Tracking Transparency effects for Google's Ad platform/SDK users
Google too is complying with Apple's ATT norms.
If your app uses Google's SDKs for advertising, in addition to the above, Google recommends that you update Mobile Ads SDK to version 7.64 to support SkAdNetwork.
Your advertising partner(s) can support you by helping implement custom S2S integrations to pass the required parameters from the backend.
Also, Google has stated that:
"Advertisers running Display, Video and other campaigns promoting web-based conversion goals may see performance fluctuations as Apple's ATT policies go into effect. During this time, we will be expanding modelled conversions to more iOS 14 traffic."
Here, modelled conversions mean that instead of reporting the numbers directly (as those could well be incorrect), they will share estimates. Please keep this in mind when designing, executing, and measuring your campaigns.
How are MMPs handling this?
All of them are expected to move to SKAd Network. Check with your MMP for details.
Mobile Measurement Partners (MMPs like AppsFlyer, branch.io) built their measurement and fraud capabilities around the IDFA identifier. While Apple has announced a replacement API (SKAdNetwork) that will allow for conversion data to be passed back at the campaign level, we're still going to see a reduction in the fidelity of data that MMPs use to identify fraud and performance across mobile campaigns.
Our Easyinsights team will be performing custom S2S integrations with MMPs and publisher platforms alike to handle the challenges going forward. Do reach out to your Easyinsights/ETMedia labs representative for details. 
Conclusion
These are testing times. At ETMedia labs, we have set up a high-performance team that has the mandate of staying up-to-date with all changes, technical and otherwise. The team is working on numerous scenarios, strategies, and advising our clients on how best to navigate these waters.
If you want to discuss how these changes can affect your business, reach out to us here.