Measuring the SERP Visibility Index and its Importance

11

min read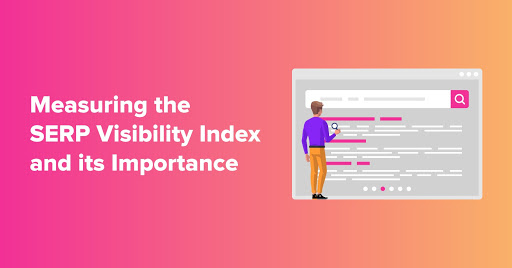 I will start this with a cliché – We are in an age of information overload! 
This probably isn't the first time you have come across this phrase, nor will it be the last. A huge reason for this is the internet. The answer to every question, be it work related or otherwise, is just a Google search away (or Bing if you like..to give Bill Gates his due!) – from 'How to split cells in Excel?' to 'Why is your face on your head? [1]'
So, coming back to my cliched start, while it is understandable for a search query like 'How to split cells in Excel' to have 1,31,00,000 results, even queries like 'Why is your face on your head?' return an unbelievable 5,36,00,00,000 results!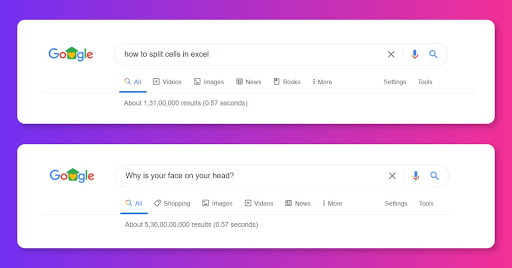 Keeping aside the 'why would someone search for something like this?'-part of it, the point I am trying to make is, the internet is crowded and in a lot of ways Google and other search engine results pages or SERPs are the gateways to it!
SERPs are nothing but the pages of results you see when you search for something on Google or Bing.
Just turn the tables for a bit and think of it from your customer's perspective who is looking for the exact product or service you are offering. He/she is also going to see multiple results, including from your competitors.
Add to it the paid results that they'd see, which further pushes the organic results and eats up a fair share of a user's clicks.
You need to be visible to the users when they search for stuff you are offering. This means you need to appear higher on the Search Engine Results Pages (SERPs).
As you probably already know, given the sheer number of results that appear, the SERPs for every single query you have runs into hundreds of pages with each page displaying 10 results.
According to a study by HubSpot, 75% of the users do not go past the first page of SERPs – thus it is critical to rank higher.
How do you do that?
Improving the SERP visibility
No matter how many keywords you target and you want to rank for, there will always be a specific set of keywords that brings you the bulk of your traffic (think Pareto Principle, the 80/20 rule). And out of these, there will be branded keywords – wherein the user specifically enters your brand name into Google's search page, and then there are the non-branded keywords – some which are relevant – bringing you higher conversions.
As you'd know, it is easier to rank well for and find targeted conversions for branded keywords. However, it is the non-branded keywords where the real competition lies.
You need to first identify these non-branded relevant keywords and then map them to your typical target audiences' journey such as:
High-intent keywords (most relevant):
These are the keywords that show the user's intent of taking an action. For example: "buy insurance online"
Medium-intent keywords (potential future prospect):
These are keywords that show a user's intent to gather information. For example: "are online insurance plans cheaper?"
Low-intent keywords (least relevant):
These are the keywords that would mainly show a user's intent to simply browse for some information. For example: "at what age should you buy health insurance?"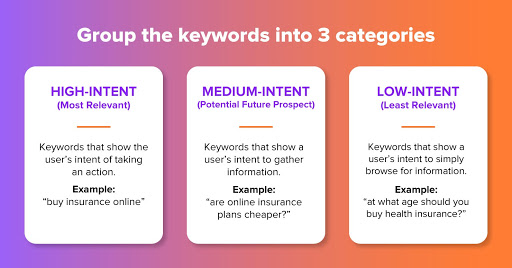 If a brand is able to rank for more relevant, high-intent keywords, the lead quality they get can hands down beat a paid campaign.
Once you have identified the high-intent keywords you need to track them regularly to ensure they rank well, and their rankings consistently improve. You should also benchmark them with the competition.
Now a lot of you might think that to achieve that, SEO is all that you need – keywords, some blog articles, some pages with the keywords scattered on them at relevant places, and a good call-to-action would do it.
Well, no!
Click-Through Rates and Average Position: The Importance and Impact on SERP rankings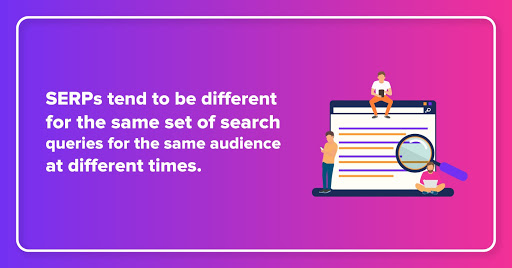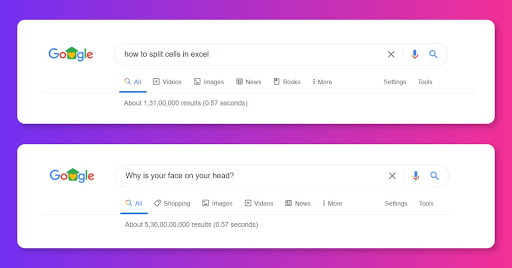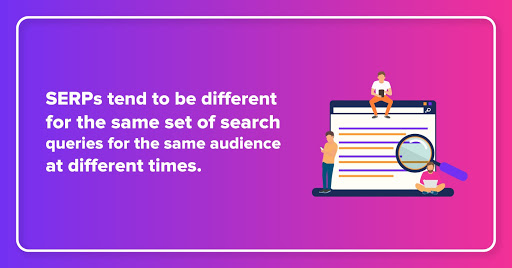 The thing is SERPs tend to be different for the same set of search queries for the same audience at different times. 
This is because search engines no longer give importance to keywords and on-page SEO alone. They also evaluate the user's intent, recent search behavior, and display the results accordingly.
This makes other factors such as Click Through Rate (CTR) and Avg. Position a critical data point in your keyword tracking and content optimization journey.
Understanding CTR:
CTR is the percentage of clicks a page gets out of the number of times it appeared on a SERP (impressions) in a particular time period.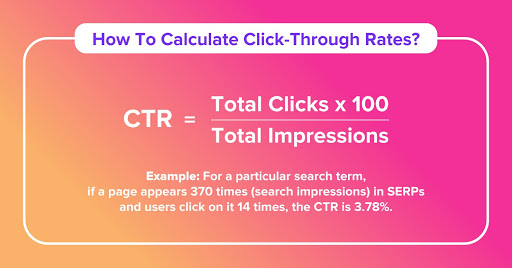 For example: For a particular search term, if a page appears 370 times (search impressions) in SERPs and users click on it 14 times, the CTR is 3.78%
Now, it goes without saying that higher CTR means higher traffic.
How does tracking CTR help:
CTR is not just an indicator of how many times a particular page link is getting clicked. It is also a key indicator of how relevant your audience is finding its content.
An improving trend in CTR means that your pages are resonating well with the audiences, and your brand recognition and recall is improving.
CTR is also a good indicator for identifying pages that require optimization. For instance, if a page has higher search impressions it means that the search engines are associating it with the particular keyword the user is searching for.
However, since the CTR is lower, it indicates the page appearing on SERPs isn't resonating well with the user, it isn't solving their problem. This means you would have to tweak such pages with a better page title and meta-description to resonate with the user and thus improve your clicks – thus brand relevance.
CTR also impacts your page's avg. position on SERPs.
Understanding Average Position:
Avg. Position simply put, is the average of the positions you rank for a particular keyword.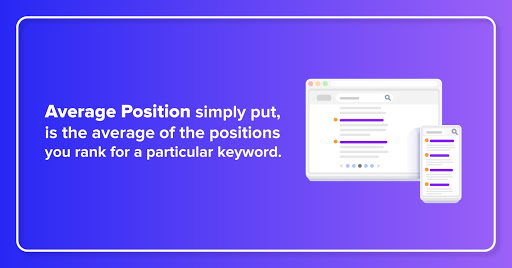 An average position between 1 to 10 means that you are ranking on the first page of SERPs, 11-20 means on the second page, and so on.
For example if your avg. position shows 5, it means there is a great chance you are appearing in the top 4-6 organic results.
However, like all things data, this metric too keeps changing, and hence keeping a track of the trend is critical.
There are several factors that impact the avg. position, CTR is one of them.
As your CTR improves, it means that more and more people are opting to view your page, which, in turn, tells Google that this page is relevant for the user's query. Hence, it starts to push it higher in the SERPs.
How does tracking Avg. Position help:
By tracking avg. position you are not only able to gauge how your pages are performing on the SERPs, but it also helps you understand how your SEO efforts are faring.
Improvement in average positions means: Things are going well, your SEO is on point, your pages are relevant and your brand is getting increased recognition.
What this also means is that your pages are gaining enough visibility and attracting higher traffic – at times, even ahead of the competition.
Interpretation of CTR and Avg. Position Data in correlation to each other:
If you regularly track your CTR and Avg. Position metrics, you can draw the following inferences from the data:
Increasing CTR but constant Avg. Position:
This means that although search engines aren't pushing your content, people are recognizing your brand – your brand authority might be improving.
Constant CTR but decreasing Avg. Position:
This means that your brand recognition is unchanged. People still visit your site like earlier. However, there may be some other factors that are affecting your Avg. Position due to which the search engines are pushing your page further down.
This is a signal to ramp up your SEO efforts as you are losing opportunities to attract your audience.
Decreasing CTR but constant Avg. Position:
This means that your brand authority is in question. Your audience doesn't interact with your content as much as they used to earlier. However, the search engines are yet to align to this fact.
It is only a matter of time before you will see your Avg. Position slipping due to the lower CTR. You need to optimize your brand messaging for your audiences.
 Decreasing CTR but Increasing Avg. Position:
This means that while your SEO efforts are showing some results, your audience isn't finding your pages relevant for them OR there is a clear case of losing your brand authority.
To fix this, you will have to evaluate these pages vis-a-vis the search terms they are appearing for and see if the search query and the page title and content match – do they answer that particular query for the user?
How do you Track This Data?
Google Search Console is a good place to start with.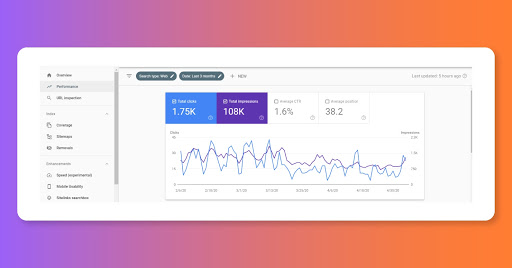 Once you set up the Google Search Console account for your website, you can check statistics for the CTR, Impressions and Avg. Position from inside its dashboard.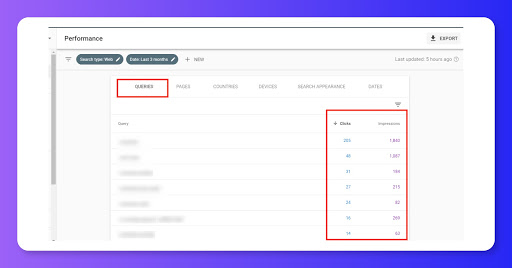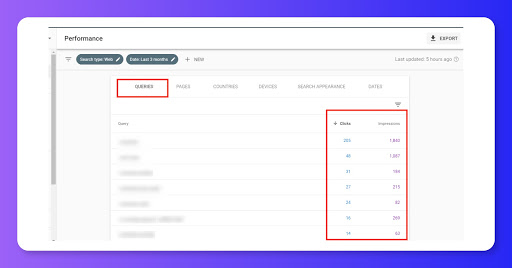 Google Search Console Data: Viewed by Search Terms for CTR, Impressions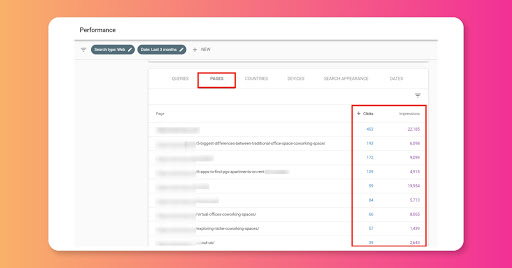 Google Search Console Data: Viewed by Pages for CTR, Impressions
Problem with Google Search Console Data:
As you can see from the above screen grabs, the data for CTR and Avg. Position isn't ready-to-use in Google Search Console's interface. In other words, the data is there, but it needs a few clicks to sort and filter and you still have to export the data to an Excel file to check the numbers.
Now, while this may sound like a no big deal, there are still some very basic limitations.
For one, you cannot see consolidated data that maps the search terms or Queries to the individual pages. You have two separate sets of tabs, one of which shows the number of clicks and impressions per search term. Similarly, you have another tab that shows you the page-wise number of clicks and impressions.
Now the real problem here is – what if you see a decreasing CTR for a particular set of search terms and want to optimize your page for that?
It is impossible to correlate a particular search term with a specific page as the Queries data is independent of the Pages data.
These are just some of the problems you might come across when trying to pull data from GSC.
Another limitation is how do you effectively compare your keyword performance with respect to the competition.
How EasyInsights Can Help:
As powerful as Google Search Console is, it has its fair share of issues. Also, if you need visibility for certain specific search terms like the one we mentioned above, it is just not possible, unless you use some third-party tool, which again has limited functionalities and feature-sets.
This is where EasyInsights comes in.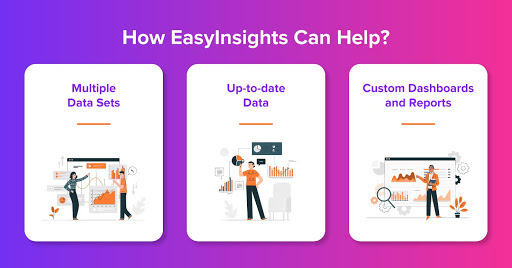 Multiple Data sets:
With EasyInsights, you can not only access all the data points that Google Search Console gives you, but you can also get custom reports based on data pulled from your ad platforms and analytics tools.
Up-to-date Data:
This data is also fetched at regular intervals so you always have access to the most accurate and latest data to take action.
Custom Dashboards and Reports:
Mapping the various fields in Google Search Console data is just a small part of the many powerful features that EasyInsights offers.
You can even save dashboards with multiple combinations of data for quick insights and timely data-interpretation.
You can even tag the search terms as High-intent, Medium-intent, and Low-intent and correlate the various data points based on these sets of keywords.
Here's a case study for Luxury Ayurveda Brand that will give you a peek into just how flexible and useful EasyInsights can be.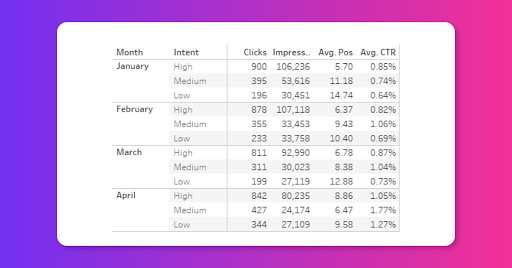 In the above table, you can see the clicks, impressions, CTR, and Avg. position for the High, Medium, and Low intent keywords.
This kind of data helped Luxury Ayurveda Brand to quickly understand that, although their CTR had improved for the high-intent keywords from January to April, their average position was going down.
This meant they needed to work towards optimizing their on-page SEO for the pages targeting those keywords.
This is a powerful insight as it helps them focus on those pages that are likely to give them higher conversions.
Apart from that, what this data also shows is that their brand authority is improving steadily – an increasing number of people are clicking their pages and the SEO for the medium-intent keywords is definitely working. So, they can continue doing what they are.
But, that's not all.
Here you can see comparative data for the high, mid, and low intent keywords, their CTR, and avg. positions in relation to their competitors.
In this case, Brand 1 is Luxury Ayurveda Brand, while 2, 3, and 4 are the competitors.
As you can see, it is very easy for Luxury Ayurveda Brand to understand that they have a better CTR for high intent keywords and almost a similar avg. position to its competition, except for Brand 4.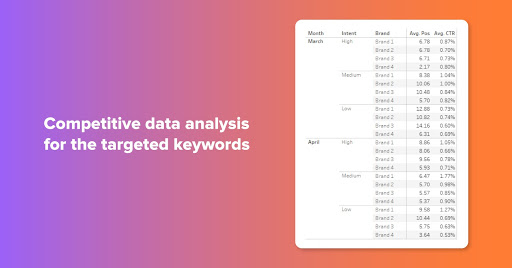 What this data also tells Luxury Ayurveda Brand is that –  with some improvements to their on-page SEO for the high-intent keywords – they can easily match or even beat Brand 4. Why? While search engines were ranking their pages above Luxury Ayurveda Brand, the target audience seemed to prefer them over Brand 4, given the higher CTR in April vs March.
These are just some of the things EasyInsights can do for your brand. For more details and to know how we can help you reach the right audience in your traffic gen efforts, get in touch with us today!