Top 10 SEO Growth Hacks To Double Your Traffic

14

min read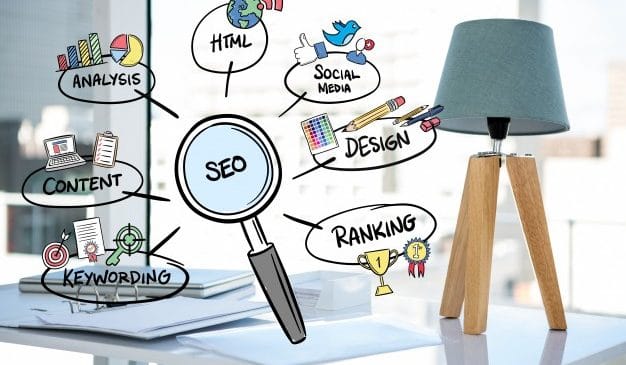 Who doesn't want to dominate the search engine result page (SERP) by catapulting their website traffic and rankings? However, only a few businesses that understand Google algorithms and SEO growth hacks manage to rank higher in organic search results. If you also want to improve your website's organic traffic and double sales but don't know where to begin, this insightful piece is for you. Walkthrough this article until the end.
According to a report published by HubSpot, Google processes nearly 70,000 search queries per second, which roughly translates to over 5.8 billion searches every day and around 2 trillion global searches every year. Moreover, a website that ranks on #1 position in Google's search engine result page has an average CTR of 31.7% and is likely to receive 10x more clicks compared to a website that ranks at the #10 position in SERP. This clearly indicates that the higher your website ranks in Google's search results, the better will be your click-through-rate (CTR), traffic, sales, conversions, and increased revenue. So, let's quickly look at some proven SEO growth hacks that you must embrace to improve your website's organic search presence. Let's get started.
Hack #1: Check Your Website Health by Auditing It
First things first – conducting an in-depth audit of your website will help you discover the underlying factors responsible for your website's poor search rankings and low traffic. Albeit, there are many businesses out there that offer website auditing services but this is something that you can do-it-yourself (DIY) and save some bucks. There are many tools available online such as SEMrush, Ahrefs, SEO Analyzer by Neil Patel, etc. that you can use to perform an in-depth audit of your website. However, we suggest you use SEMrush. The reason why we are suggesting this tool over others is because of its user-friendliness. Even a newbie can use this tool to perform auditing and interpret audit results with no hassle.
Hack #2: Deep Dive Into Google Search Console To Drive 28% More Traffic
Another powerful yet proven SEO hack to drive more traffic to your website is using the search console tool a.k.a Google webmaster. When you sign in to the Google search console tool and click on the performance tab available at the left-hand side, you'll see an overview of your website's performance including total clicks, total impressions, average click-through rate (CTR), and average position.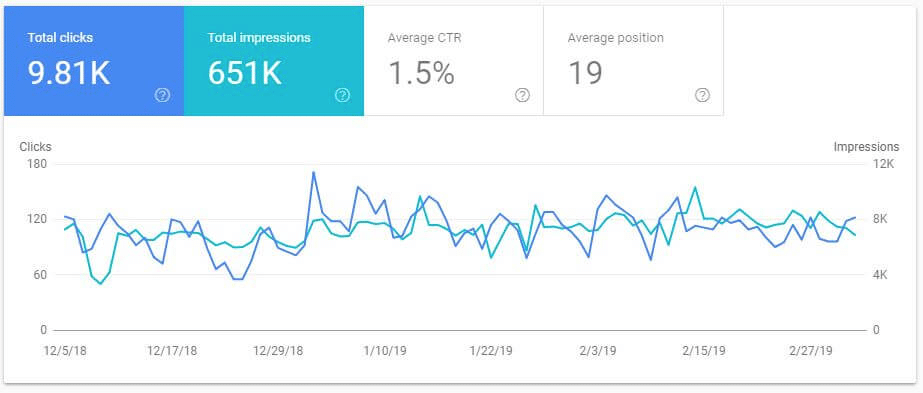 To dive deep into the data, click on the average position and average CTR checkboxes in the graph section, and then move to the queries tab available just below the graphical chart showcasing your website's performance. On clicking the queries tab, you'll find a list of all keywords or phrases, which people searched on Google that displayed your website in the search result. Now, you can export this data in CSV, Excel, or Google sheet format.
Once you've exported the data in the desired format, you can start analyzing it and collect valuable insights. If you find keywords or phrases having a high number of impressions but lower CTR, you can use those phrases or keywords in your content or metadata to attract more clicks. While updating the content, always make sure you don't just stuff the keyword a number of times, instead, you should look for the possible opportunities in your content where you can use those keywords organically. To see the impact of the changes you've made in your content, here's a rule of thumb that you need to keep in mind:-

Hack #3: Boost Your Site Loading Speed With Accelerated Mobile Pages (AMP)
Mobile search is rising incessantly, in fact, 61% of searches on Google are done through mobile devices. This clearly indicates that if your website is not optimized for mobile devices, you are missing out on a huge chunk of traffic, sales, and conversions. In a survey conducted by Unbounce, nearly 70% of users admitted that a site's page load speed influences their buying decision, and 45.4% of consumers admitted that they are less likely to purchase from a website that loads slower than expected. This may be the reason why brands nowadays are competing with one another over milliseconds because they know that even a few milliseconds delay can put a significant dent in their sales. If you don't want to lose any potential sales or traffic through mobile, it is important to embrace accelerated mobile pages (AMP). By implementing AMP on your website, you can provide blazing fast, smooth, and better browsing experiences to mobile users.
AMP not only makes your website load quickly on mobile devices but also plays a vital role in improving your site mobile search rankings. It comes with other added advantages like better UX, lower bounce rate, improved visibility, increased ROI on ads, and not to mention chances of ranking in Google's search carousels that rank above the organic search results in SERPs.
Hack #4: Become a Master in User Search Intent
Long gone are the days when websites used to rank on #1 position for exact-match search queries. Today, the game has changed completely and Google shows search results on the top for keywords that match closest to the user's search intent and contextual relevance. In 2020, if you want to rank higher in SERP, you must understand the search intent behind that keyword that you are using in your content.
Is it to buy something? Is it to find information about a product or service? Or, is it to compare one thing with another?
The better you understand the search intent of users, the higher your website rank in SERP.
For instance, let's take the keyword 'latest smartphones under 20000'. People who typed this search query might want to buy a smartphone or maybe they are looking for information to compare products. In this case, Google shows organic search results that people are using this query to find the information.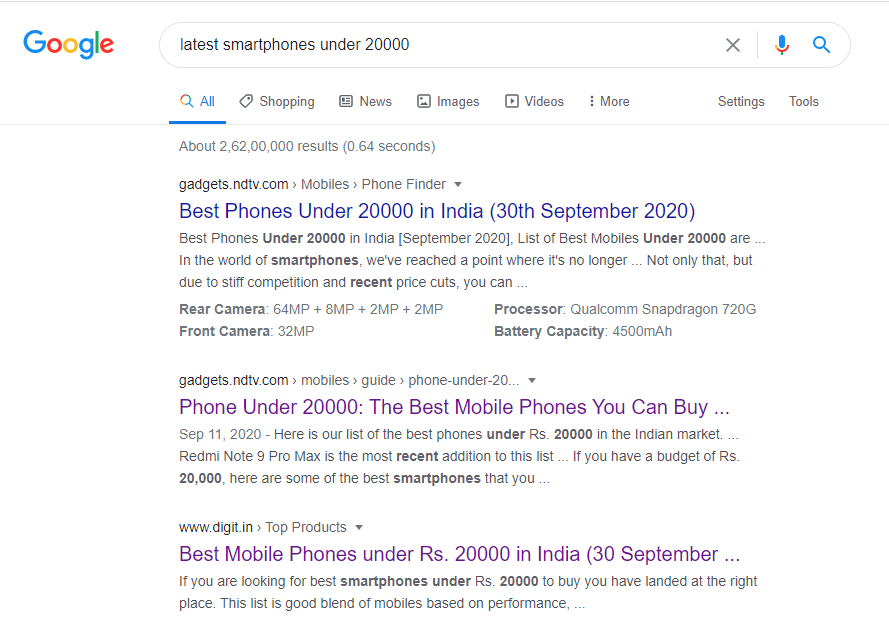 Wondering How to Find Search Intent
To be honest, understanding the search intent of users is not as challenging as it seems. You can easily determine it by closely looking at the search query (keywords). You can refer to this below chart comprising some keyword "modifiers" that will help you understand a certain type of search intent of users.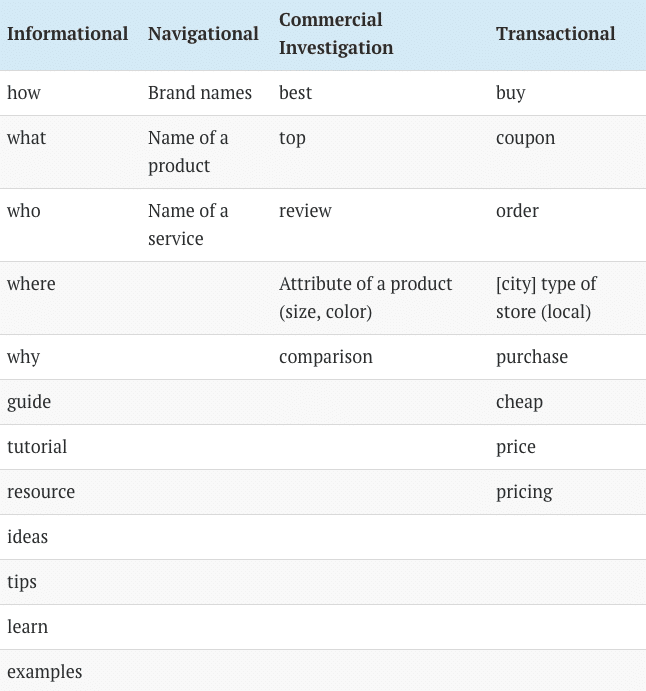 Hack #5: Leverage Schema For Rich Snippets
Nothing could be more effective than leveraging schemas to stand out in search engine result pages (SERPs). You can make use of popular rich snippets use cases like FAQ markup, Reviews markup, "How to" markup, Breadcrumb markup, Sitelinks search box markup, etc. This hack will not only make your search results look informative and unique but also boost the traffic by 20-40% and increase click-through rates (CTR) by 677%.
Let's take the image given below as an example, if someone searches on Google 'app development company in India', there are higher chances of a person clicking on the 3rd search result featuring the rich review snippet than the ones showing mediocre information.
The important thing to note here is that when using rich snippets on your website, always make sure that the structured data you are using is in JSON-LD format because Google prefers only this format. Also, don't forget to check the schema code that you've implemented on your website using Google's structured data testing tool or rich results test.
Hack #6: Increase Average Session Time of Your Website With Amazon Polly
Dwell time a.k.a session time is an important SEO factor that plays a key role in your website search rankings. Today, it's not just enough to bring users to your site, in fact, you need to know how to retain them on your site for a longer period of time. This is where the role of Amazon Polly comes in. It is a powerful speech-recognition tool that converts your text into lifelike speech (podcast) by leveraging progressive deep learning technologies. In simple words, Amazon Polly reads aloud the entire content to your visitors. Today, many people prefer to listen to the content instead of reading them. By integrating a tool like Amazon Polly on your website, you can not only increase the dwell time of users but also improve your organic search rankings in SERPs.
Hack #7: Keep Updating Existing Content and Make It Evergreen
If you want to improve your site organic search rankings and traffic, you should update the existing content of your site. You can begin with mining the content present in the archives section. To find the old content that is still driving traffic to your website, simply log into your Google Analytics account and then click on the "Behavior" tab present on the left-hand side. Under the Behavior tab, you'll find the 'Site Content' tab, click on it and then select the 'All Pages' tab from the drop-down menu.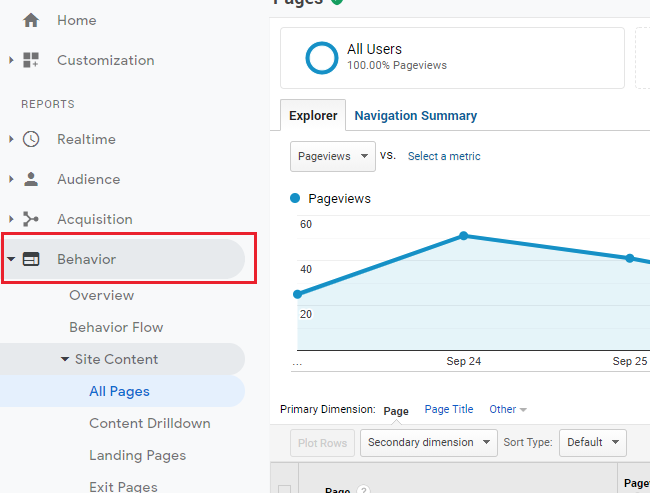 In this section, you can easily look at your top-performing content ranging from the past 3 months to six months or even a year. Now, what you can do is update your top-performing content to keep them fresh and improve their search rankings. Enlisted below are some of the best ways to update your existing content:-
a) Create a sharable headline: The first thing that you can do is update the headline in such a clever manner that it encourages readers to share your content among their community. For instance, if your old content was titled "How To Drive Leads From Content Marketing", you can add a bit of personal flair and make it more shareable by making it something like this "How we doubled our monthly leads from content marketing". Another result-driven hack that you can experiment with is using a number, symbols (+, %, etc.) or brackets in the main headline (H1). In many surveys, it has been found that people are more likely to click, read, or share the content having numbers in the H1.
b) Update old stats or data: If you have published some content in 2017, there are chances that you may have used the data or statistics of 2016 or before that in your content. Now, we are in 2020, so why not update the old data and use the latest statistics to make it relevant and evergreen content.
Hack #8: Target Your Competitors' Keywords (Don't Reinvent the Wheel)
If you want to grow your organic search presence and double your traffic in less time, we recommend you to replicate the strategies that are driving traffic to your competitors'. For instance, find the keywords for which your top competitors' are ranking on Google #1 page and driving a good amount of traffic to their site. Once you have a list of keywords that you are competitors' are using, you can incorporate the same in your web copies, blog posts, and other related pages.
When it comes to keywords researching, you don't have to reinvent the wheel. Instead, make a smart move and use popular tools like Ahrefs' Keywords Explorer, BuzzSumo, SpyFu, Ubersuggest by Neil Patel, etc. for finding competitor keywords.
Hack #9: Write Guest Blogs to Consolidate Your Brand, Not to Build Links
Guest blogging is still one of the most effective SEO techniques to increase your brand exposure, build trust and awareness, and improve organic search rankings. When done properly, it can help you build your email subscribers, grow your content readership, and generate qualified leads. However, it is easier said than done. In order to get your content published on top publications related to your niche, you need to build a relationship with the site owner.
Fortunately, there are ample ways to learn about your guest publisher and build a relationship with them. You can connect with them over Linkedin, Twitter, or any other platform where they are active. Once you get connected with them, you can interact with their posts by commenting or sharing them on your social handles. Once you've established a good relationship with them, you can express your desire of becoming a guest contributor on their platform and then pitch your idea by crafting a well-personalized email.
The important thing to note here is that a generic email addressing the website admin won't serve any purpose. Always remember that site owners of top publications receive a lot of content submission requests on a daily basis and if you don't approach them with a personalized email, you're less likely to hear from them. Once your submission request gets approved and your article gets published, you need to keep a check on the article and respond to all the comments. Treat their website audience to be your audience and try to build a strong relationship with them as well. Doing this will surely help you grow your site traffic and returning visitors.
Hack #10: Increase Your Website Click-Through Rate by Optimizing Meta Tags
Last but not least SEO hack that can double your website traffic is meta tags optimization. With over 5.8 billion searches on Google every day, you can't ignore optimizing meta titles and descriptions. Meta tags represent a website in SERP and tell potential visitors what they can expect on clicking a link. Ergo, it makes sense to write informative yet persuasive meta titles and descriptions that encourage visitors to click on your website link.
Powerful tips to optimize meta titles
a) Title Length: We recommend you to keep the title length under 55 characters. Else, it will not be shown completely in SERPs and gets truncated.
b) Use Power Words: Power words are persuasive words that bring your title to life by immediately triggering a psychological or emotional response from searchers. Here's a comprehensive list of 700+ power words that will boost your CTR.
c) Analyze Your Headlines: The easiest way to analyze your headline is using the #1 free headline analyzer powered by CoSchedule's. This powerful tool evaluates your headline on certain factors such as headline sentiment, word balance, type, and length. If you meet all the criteria, you'll get a score above 70 that gives an assurance that your headline is powerful enough to drive clicks in SERP.
Powerful tips to optimize meta descriptions
a) Description Length: We recommend you to keep the description length under 150 characters.
b) Use primary keywords: You may have noticed that Google highlights (bolds) keywords in meta descriptions that the users search for. Using your primary keywords naturally in the meta description can increase your chances of ranking higher in SERP.
c) Include relevant data or thought-provoking statistics: There are many niches that rely heavily on statistical data, numbers, or facts. If you also have a website in a similar niche, we strongly recommend you to use interesting data in every meta description page. This will surely give a boost to your CTR.
Final Thoughts
There are hundreds of SEO hacks you'll find online, however, in this post, we've discussed only the ones that can improve your organic search presence and double traffic in a short span of time. Apart from this, you should always strive for creating meaningful content for your audience and find unique ways to distribute your content. That means you should always be ready to go the extra mile, stay consistent, and grab all the opportunities that your competitors might be missing. You may also tap the result-driven SEO services of ET Medialabs to rule on the #1 page of Google search. Connect with our dexterous professionals by dropping a line to [email protected].