Here's what we learnt after spending $1,000,000 per month on Google's Universal App Campaigns

8

min read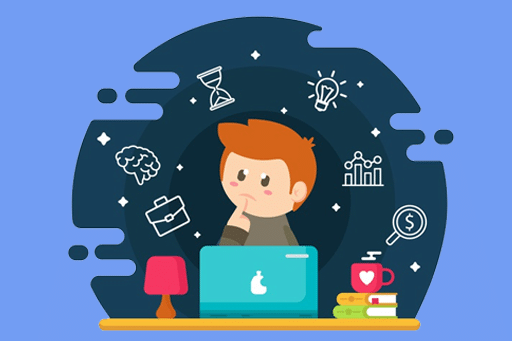 Nowadays, 50% of all internet traffic comes from mobiles and 90% of that comes from apps. It has become absolutely essential for a business to have a mobile app to cater for these customers. Having acquired an app user means:
Higher brand recognition in user's mindset

Less chance of switching to a competitor's website/app.

Ability to use app cache and cookies to improve user experience 

Ability to show push notifications to app users and increase conversion rate

Using data engineering to find customer preferences
So if you are looking to bring users to your app ecosystem, Google's Universal App Campaign  is one of the best methods to promote your app on all of Google's available ad networks. It utilises all the Google's advertising channels like Search, YouTube, Google Play, Google Display, Google display network, etc. to;
Increase app installs

Increase in-app conversions 

Drive app engagement
So how  do you get Universal App Campaigns to work best for your business, what are the best practices and what are the strategies you should know to get the best results from them. Read on to get all the answers to these questions:
How does UAC work
The biggest advantage of Universal App Campaigns is that it operates on all the channels, so if you think google display network is a huge marketplace for advertisers, then UAC inventory  stands at five times of any particular channel as it includes all Google's channels. 
UAC works by placing ads across Google's platforms and optimising placement performance, user segmentation performance, and which queries resulted in high-quality conversions

It also values in-app advertiser data to improve the performance of acquired users, eg: using retention rates, in-app activity and engagement metrics to optimise creative and audience targeting 
Google uses a combination of Artificial Intelligence and Machine Learning Algorithms to 
Optimize UAC. After submitting the ad copy requirements, Google automatically creates multiple ads to test on various audiences and channels in the selected region. As the time passes Google realises which combination of text , creative , channel , audience (and many other factors ) is working best, based on its machine learning algorithms. 
Why should you use them
Many of the reasons for using UAC overlap with the reasons for developing an app for your business. Keeping those in mind, UAC advantages over competitors include
High scale

, unlike search campaigns which are restricted by search volume.

Large network

which includes all the products from Google (Youtube, Play Store, Search, and  GDN, etc)

Indirect branding

by showing millions of impressions daily across the Google network
UAC Setup
If you are setting up UAC for the first time , follow these steps below 
Link your Google adwords account with your app listed in the Google Playstore

Create a new campaign with app promotion as the objective

Set an initial bid to bring maximum installs.

As of now, there is only one bid strategy available (tCPA).

Use relevant text lines for headlines & description.

Upload the creative assets and the campaign is ready to be made active 
Now after understanding the setup, let's look at the strategies you should follow to 
generate maximum returns via these app campaigns.
Optimisation Strategy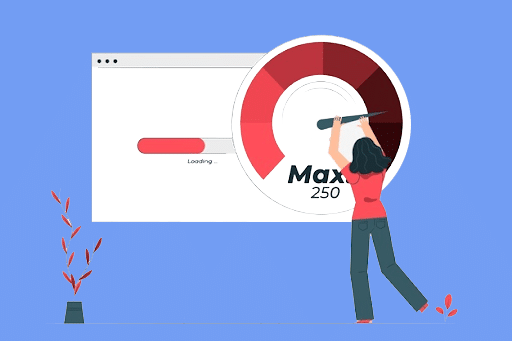 Due to less options to choose and optimise from, it seems like UAC is pretty easy to manage but there are some strategy tweeks which can make or break your campaigns. Although they are dependent on Google's algorithms for optimisation , we do need to provide certain inputs so that these algorithms can perform better. Let's check out some of the best strategies which we discovered while running these campaigns:
One can optimize UAC campaigns with 2 strategies in mind
Install volume

or

in-app actions 

(like purchase, add to cart, etc.) 

tCPA bidding
Optimisation event : Installs v/s In-App Actions
Selecting the event based on your goal is of utmost importance. 
If your app is relatively new in the market, it's better to go with Installs in order to get as many users as possible and later retarget them to make them converted via hyperlinked eUAC(enhanced Universal App Campaigns)

After getting some traction in the market, you can shift the focus of the campaigns from Installs to Bottom of the funnel events like Purchases or Add to Carts.

If the requirement is only to acquire users who make any specific action in your app like sign up or purchase then it's better to go for In App Actions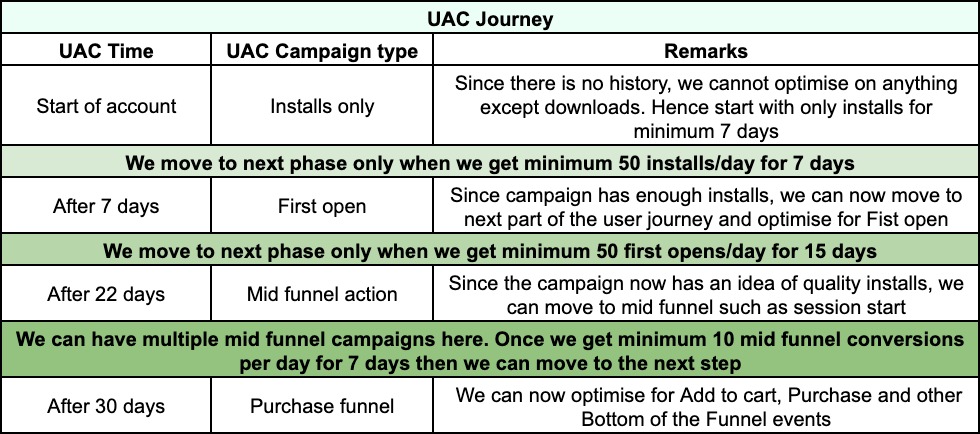 It's always better to start with Installs to bring as many new users as possible and then move further into the funnel step wise and start optimising for the middle and bottom of the funnel events. It helps you to figure out which optimization gives you the highest volume along with better ROI.
Network-wise optimisation
Once you have started spending significantly on UAC, you can get your account whitelisted from Google's customer service team. After which you can set up Youtube specific campaigns which will be shown only on Youtube. 
Initially the CAC/CPP would be high but eventually it will turn out to be one of the top contributing campaigns with a better cost to conversion percentage with high quality rate.
Pro tips: Optimization events
Do not focus on a single event, optimise multiple events like ATC, Signup, purchase, customer acquisition, etc.

This reduces dependency from a single event and alo gives us 2-3 options for scaling as the funnel conversion percentage varies from client to client.

Set up firebase/third-party analytics. It is advised to optimise from firebase events, not from third-party.

All events from install to final funnel need to be in place and passed on to the AdWords panel. Include the final event(Purchase, Acquisition) and First open in conversions.
Bidding Strategy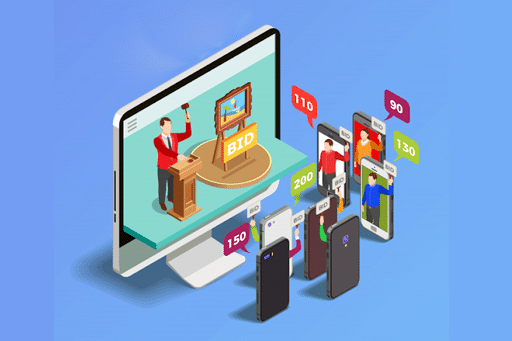 Your bidding strategy should be based on how much you want to spend for each conversion and advertising budgets you have for UAC. An appropriate bidding strategy tends to bring more quality users to the app.
For Installs Google recommends to set a budget of at least 50X your aimed cost per install. For other events Google recommends to set a budget of at least 10X of your cost per conversion.
Your Cost Per Acquisition will vary for Installs and any other in-app event. Hence set bids keeping that in mind in order to let Google's Algorithms to run properly.
Pro tips: Bidding 
Increase the bids 5-10% regularly and check out which is the sweet spot for getting maximum returns

Bid higher for optimization events(installs, first opens)  than the final funnel event (eg. purchase, acquisitions)

Eg: Acquisition optimised campaigns needs to have relaxed bids so that campaign doesn't work for bringing in Acquisitions at cheaper costs, instead give google the relaxation to get higher Cost/Acquisition which would ultimately bring quality users
Creative Strategy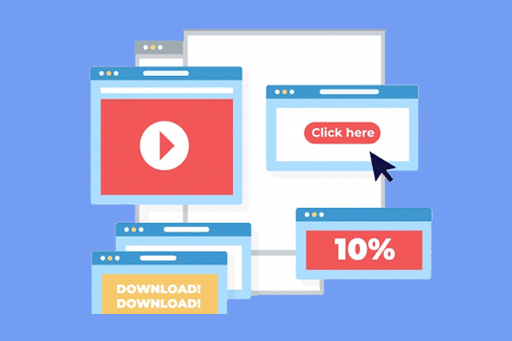 Creatives are an important part of UAC. The success of your campaigns hugely depends on the creative strategy you deploy for conversions. It is advised to keep as much variety in the images as possible. For example create videos of different lengths from 15 seconds to a few minutes, create different color images , try with different text ideas and usps. 
Google will identify the best combination of provided assets to determine what works best for your audience.
Pro tips: Creatives
Provide a healthy creative mix to your campaigns. 10 text ideas, 20 videos and 20 images are appropriate to provide you with best results

Have 1 USP in every text idea

Create engaging videos which would grab consumers attention early, and also introduce brand as early as possible in the video for high brand recognition.

Utilize your app to create images – for example show product images, actions users can do on the app , etc.

Create images in different languages to region specific strategy implementation
UAC Best Practices:
Along with the above provided information, there are some best practices for UAC which you can follow.
Proper Structuring

: Create a properly structured , city specific/optimisation strategy specific account. You can also try a combination of both strategies.

GMC linking

: Link Google Merchandising Center for a better dynamicity among your products lineup

Limited changes

:If your account performance goes bad for a certain day, don't make hasty changes. Limit changes to ensure no disturbance in learning. Once sufficient data points are being collected on a daily basis, you can make heavy changes which will not deteriorate the campaigns performance. Heavy changes will require 3-4 days for conversion rates to stabilize

Budget increments:

Must be kept at max at 25-30%, nothing higher than that. Higher increments can destabilize the campaigns to the learning stage and it would again take 7-10 days for the campaigns to get consistent with conversions

Asset Changes:

The learning is completely based on assets(text, videos and images), thus asset changes must be limited. It is preferred to always add new ad groups instead of changing assets within the same adgroup
With these strategies and tips you will be able to set up best performing Universal App Campaigns. And if you are already running them you can expect massive improvements after incorporating these strategies. 
If you would like to improve your campaign's performance further why don't you book our Free Ad Strategy Session