Wondering how much are we going to cost you? Well thats a valid concern. Agency Fee Calculator (Takes less than 10 seconds)
Maximize ROI + Crack More Sales = Happier you 😃
We draw learnings from our Experience of managing 100s of crores of ad spends for leading brands like Urbanclap, Grofers, NIIT, Amity etc. to help you identify gaps & opportunity in your current advertising strategy & execution.

















"We were looking back over the past year, and looking for the single event that changed the course of our paid efforts. Without question it was the day we took this ad strategy session."
-Cuemath












"We were looking back over the past year, and looking for the single event that changed the course of our paid efforts. Without question it was the day we took this ad strategy session."
-Cuemath
If you're spending more than ₹25,00,000 a month in online advertising (like on Google and Facebook) to promote your products or services, you have stumbled on the right website. At ET Medialabs, we are handing out a Free Advertising Strategy Session (for a limited time) that allows digital businesses just like yours to see how you compare to other advertisers with similar spends.
Why should you take this session? 
We are going to conduct a thorough audit of your account(s), including but not limited to Google Ads, Facebook Ads, Google Analytics (GA), and then present you the ad strategy in person (or on a video call) that's going to put you on top of your paid efforts. This session is going to give you answers to questions that otherwise seem too abstract to be answered, using in-depth data-driven approach. Some of those unanswered questions that you may stumble across are below: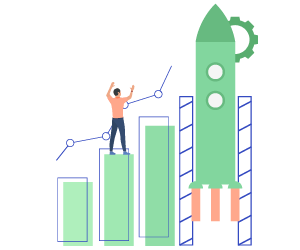 What is my business scale-up opportunity in the next three months?
No gut-driven prescriptions. No unrealistic projections. We analyse your past marketing data and tell you the growth potential of your campaigns. We dive deep into your campaigns' performance and help you crack interesting personas to scale your transactions from online spends. Find out how fast and how much you can scale from here?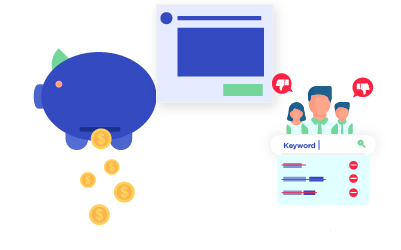 Eliminate Wasted Ad Spend
Are you unaware about the leakage of ad spend in the "low ROI" buckets? Request for our online ad strategy session where we process, filter and classify the keywords and audiences as per their scale and ROI, and report you ad wastage in the last 6 months. Not just that, we will share necessary measures on how to minimize your ad wastage.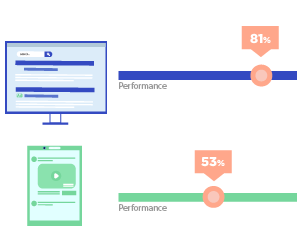 Review Mobile v Desktop
Mobile traffic has been steadily increasing year over year for…years. Are you aware that device performance for many verticals is strikingly different. For certain businesses, Desktop ads shows better conversion rates and hence, higher ROI than Mobile and vice-versa for prospecting rates. Have you been optimizing device targeting based on the type of users? If not, ask us for an audit.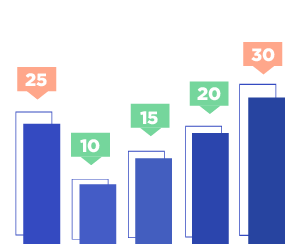 Why are my campaign-wise users and sales on CRM, GA and Facebook Panel so different? Which is that single source of truth?
Marketing Data is messy and it is a painful truth. Data is scattered in silos and they follow different attribution models because of which your campaigns and ad sets are attributed different numbers such as sales and revenue. Hence, you should be integrating all the data from the most accurate source to optimize your campaigns. Learn how..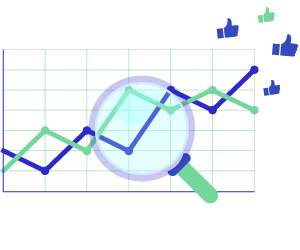 My month-on-month sales are not growing consistently? What are the levers to minimize fluctuations?
Your month on month website sales performance are affected by at least 5 factors such as audience, products' USP, seasonality, inventory size and website issues. Are you taking in all those factors while executing upon the campaigns? If you're not able to find their impact on your performance, allow us to look into your data and find it out for you.
The answers to the above are basically hidden in your data. And since it's most likely that we have grown a company just like yours already, we can answer you all these questions with full confidence wherever your data speak out.
How our tool plays a role here?
You need to be in touch with your data constantly to take crucial decisions to spur your ROI. But your data is floating around in millions of spreadsheets, which impedes reporting & monitoring. Sometimes mining this data can be an arduous task resulting in vain attempts to make any sense out of it. To overcome this problem, we invented a technology product, EasyInsights.AI
We have a 10 feet long Audit Checklist powered by "Easyinsights". It is the best way to dig into your accounts and discover specific areas that need improvement in terms of growth KPIs – ROI and Volume of Sales. Our Audit offers an overall grade as well as individual scores in 100+ focus areas.
Ready to see how our Performance Ads strategies can help you grow at record speeds?

Request a personalized strategy session today!
A few caselets on how our products-driven advertising solution has helped our clients achieve success
UrbanClap
Eicher Goodearth
Edureka
NIIT Nguru
Frequently Asked Questions
Why are we the best people to help grow your business digitally via this session?
Google Premier Partner and Facebook Marketing Partner (only 3 homegrown firms have both).

Proprietary Tools for Ad and Analytics Automation.

Experience of managing 150+ Digital-First Brands.

Spearheaded by IIT/IIM Alumnus.

It's a customized ad strategy session based on your current data
How much effort you need to put in for this?
5-10 min call to help understand where you are currently in your digital journey?

Read only access to your Fb/ Google Ads and Analytics Account.
What can you expect from us ?
Gap-and-Opportunity Analyses.

Current health status of Fb/Google Ads/Google Analytics.

Ways to save on Ad wastage.

Big Levers for optimizing better.

Strategic Recommendations.
What we specialize in?
Customer Acquisition and Retention Ad campaigns for E-commerce, Lead Generation and Mobile Apps.

Custom Analytics and Reporting Framework.

End-to-End stitched data for full funnel visibility.
We help businesses worldwide, so get in touch!
We contact you about our relevant products and services only.
We contact you about our relevant products and services only.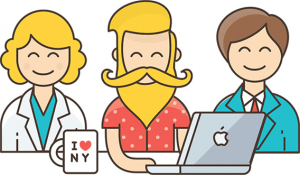 Would you like to discuss something with ET Medialabs Team?
Drop in your contact details so we can get in touch with you.
[contact-form-7 404 "Not Found"]
AGENCY FEE CALCULATOR
Estimated Cost:
75K